Can Facebook Deliver Sales?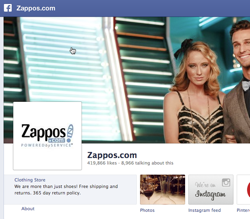 Mashable looks at Zappos Facebook activity over 2 months and finds it drives 85,000 website visits. Money quote:
"Overall, each status update during the period had a conversion rate of 1.75%, meaning that roughly one person in 50 clicked from the update to buy something. Bryan Eisenberg, a marketing ROI expert, says Zappos' results are decent since the average conversion rate for retail is 2% to 3%."
So, Zappos isn't just getting traffic from their Facebook marketing, they're also getting sales (though I would caution most people from reading too much into "industry average conversion rates").
Again, the key point is that they're getting sales. Today. Right now.
Social commerce (much like mobile) maybe something you're looking at "in the future." Just remember that the future's already here.
Interested in more? Sign up for our free newsletter and get more information on how to build your social, local, mobile marketing strategy.
Technorati Tags: e-commerce, ecommerce, F-commerce, Facebook, facebook, social, social commerce, social strategy, strategy, Zappos