The Future is Already Here…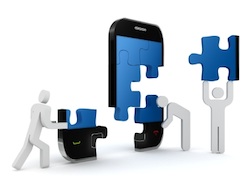 I often reference this William Gibson quote:
"The future is already here. It's just not evenly distributed."
Here's what this means in practice.
5 years ago, you could buy a mobile device with the following specs:
2 GHz dual-core processor
2 GB memory
100+ GB storage
1024×768 screen resolution
Wifi
Bluetooth (for an extra cost)
Digital camera (for an extra cost)
It wasn't a phone; it was a laptop. The problem with a laptop of course was that it weighed almost 9 pounds, its battery lasted only 2.5 hours, and it cost roughly 3 grand fully kitted out.
Today you can get very similar specs in a mobile phone for a couple hundred bucks (or less) with a contract. Yes, the storage is in the cloud and the screen is smaller. But that screen is actually higher resolution, the camera is far more useful, and the battery lasts for around 8 hours.
It's a mathematical certainty that the phone your customer carries today will be 10 times more powerful or cost 1/10th what it does today. The former opens up worlds of possibilities (picture a high-end laptop in your hands everywhere you go). The latter, far more meaningful, suggests that almost everyone will be able to afford the power of an iPhone or high-end Android device.
I've talked at length about how your customers carry the Internet in their pocket, why "mobile-first" matters, and what mobile will do to your sales.
Just imagine where we'll be in a few short years.
So here's the question: If the future's already here, why would you wait to help your customers? Do you have a strategy for helping customers today? My recent webinar, "It's All E-commerce" looked at how you can help customers achieve their goals on mobile. And how you can do it today.
Because if the future's already here, isn't ignoring it living in the past?
Interested in more? Sign up for our free newsletter and get more information on how to build your social, local, mobile marketing strategy.
Technorati Tags: 2013 trends, e-marketing, ecommerce, email marketing, strategy, success, E-commerce, e-commerce, E-commerce strategy, ecommerce, m-commerce, marketing, marketing best practices, mobile