Five Reasons Marketers Need to Get Ready for Mobile Messaging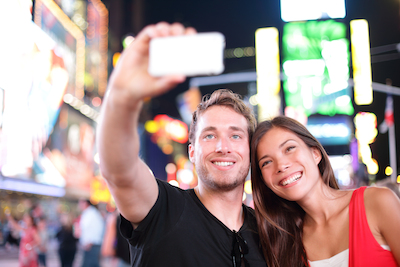 I don't know about you, but it seems like we're starting to see a lot of traction around tools like Snapchat, Kik, Facebook Messenger, WhatsApp and WeChat lately among a number of forward-looking brands and businesses. But what's the big deal here? What's it all about. Here's a quick primer for you on five reasons marketers need to get ready for mobile messaging:
Messaging has emerged as a serious platform for consumers. According to Business Insider, Messaging apps are now bigger than social networks noting, "Messaging apps are about more than messaging. The first stage of the chat app revolution was focused on growth. In the next phase, companies will focus on building out services and monetizing chat apps' massive user base." As we'll look at in a moment, we're already seeing that in some countries, and expect more to come.

And depending on where your customers live and work, it may offer some opportunities for your business, too. The key takeaway is that you need to keep an eye on how your customers interact with their friends, family, fans, and followers, and whether those interactions start to move away from social.

Messaging is already huge in Asia. As just mentioned, messaging is bigger in some parts of the world than others. For instance, eMarketer looked at WeChat as an effective platform for marketing in China. eMarketer talked with Thomas Meyer, co-founder of Mobile Now Group, who said,


"…large coffee, fast-food or luxury companies—whether they're retail or brands—they look at WeChat as the central component of their mobile strategy. WeChat is the biggest piece of the cake. It is the mobile commerce and mobile CRM [customer relationship management] enabler in China."

I want to emphasize that point again, because it's absolutely the key to understanding messaging: "…companies… look at WeChat as the central component of their mobile strategy." Messaging isn't secondary to mobile. Messaging is organically mobile.

Mobile Commerce Daily illustrated how that's shaping customer behavior, noting that WeChat users exchanged one billion red envelopes containing Lucky Money on Chinese New Year's Eve in 2015, with greater increases predicted for this year. If your customers live, work, or connect with friends and family in China, WeChat needs to be on your radar now. Similarly, if you're looking at Korea, you have to get onboard with KakaoTalk, while brands focused on Japan, Thailand, and Taiwan really want to look into Line. Europe isn't far behind generally, where WhatsApp (owned by Facebook) rules. But it's not quite as mature a marketplace as Asia overall yet.

Millennials and younger consumers seem ready to embrace messaging as their primary communications channel. It's no secret that established social networks such as Facebook aren't attracting younger audiences the way they once were but messaging style apps, such as Snapchat, are. A recent CNBC post explains why Snapchat is better than Facebook among Millennials, which Inc. unpacks further (but doesn't dispute) looking at why Millennials have stopped loving Facebook.

For a clearer picture of the shifts we're seeing in Millennials' behaviors, take a look at this Buzzfeed piece that explains why teenagers are much better at Snapchat than you. The money quote, for me: "I just need to mention this: While I was talking to Brooke [the author's teenaged sister], she mentioned that she has 700 unanswered texts 'just from today.'"

Snapchat has business value as well. Just as with WeChat, Snapchat users can send one another cash (up to $2,500 in some cases) directly from within the app.

Smart brands have already jumped onboard to attract a younger audience. Luxury Daily notes that retailers have turned to Snapchat to share Fashion Week with their clientele—a trend we should expect to see more of in the year.

The big guys aren't taking this lying down. What, you don't expect the AGFAM group to let new players romp all over their field, do you? Facebook in particular depends on advertising—and in particular, mobile advertising—to make its money. And anything that challenges its dominance in mobile and social could provide a death blow to the company's growth, both near-term and in the future. Which explains why Facebook is testing SMS integration in Messenger, as reported by Venture Beat. For instance, take a look at this fascinating highlight:


"…a Facebook spokesperson told VentureBeat:

At Messenger, we are always trying to create new ways for people to communicate seamlessly with everyone. Right now, we're testing the ability for people to easily bring all their conversations—from SMS and Messenger—to one place. It's a really simple way to get, see and respond to all your SMS messages in just one app. By choosing to access your SMS messages in Messenger, they're right alongside all the other enhanced features that Messenger offers."

Messaging might be getting bigger than social networking, but don't be surprised to see the social networks fight back.

And the big guys plan to expand their offering to make messaging more profitable. eMarketer interviewed Facebook's director of product marketing for Pages, Benji Shomair, about why Facebook believes it's ready for commerce. While the whole article is really worth reading, this part of the interview in particular stands out:

"eMarketer: Do you see Messenger as unique in what it can offer as a channel?

Benji Shomair: Without a doubt. Messenger is a one-point reaction. It's personal. It's intimate. And so I think it's a unique opportunity for businesses to interact with people both where they're already spending their time and having these meaningful conversations, but also in this context of one-to-one. It fits this broader theme of on-the-go accessibility.

Messenger also has additional context. [For example], 'You bought this jacket already, would you like it in a different color?' Or, 'Hey, you were browsing for this and it was out of stock, now it's back in stock, would that be of value to you?'"

Cool, huh? Shomair continues:

"One of the most exciting things that we've seen is that a lot of the outreach with Messenger and Pages is pre-transaction. So in the messaging ecosystem, when people are thinking about making the transaction, they're finding this channel is a really valuable way to help with their questions, clarifications and availability."
Now, it's unlikely that messaging will completely take over in the next 6 months. And, as we've talked about before, you don't want to waste your time constantly chasing some fictional "next big thing."
At the same time, it's important to note that messaging is starting to gain traction. And if your customers live, work, or connect regularly with friends and family in Asia, you really need to start looking at how to leverage messaging into your marketing plan. For everybody else, consider this:
Start asking (and watching) your customers. Begin surveying your customers about how they'd like to hear from you. Include messaging services such as WeChat, WhatsApp, Facebook Messenger, Slack, HipChat, and Snapchat as options to see what's popular among your customers.
Create a Snapchat geofilter for your business. If you have a physical location, create a geofilter on Snapchat to let your customers customize their experience when they're nearby (you can review some solid examples here). Then see whether your customers connect to gauge interest in your brand on Snapchat.
Test. Learn. Test again. This one's probably old hat for many of you. But while it's probably too soon to dive into messaging in a big way (unless again you're targeting Asia or, possibly, have a hardcore Millennial focus), it's not too soon to test. A number of case studies exist of brands who've had success with mobile messaging. It may be time to include your name on that list.
Again, mobile messaging has some runway here. But, as we've seen with many digital trends, they tend to "sleep, creep, then leap" into dominance. We're well past the point of "sleep." Whether 2016 is the year mobile messaging leaps into the mainstream remains to be seen. But that moment is unlikely to be too far in the future. No better time than today to start ramping up your team's skills to be ready to make the leap yourself.
And if you want learn even more about how your customers' changing behavior shapes e-commerce and marketing, be sure and register to receive a special report I've produced in conjunction with hotel marketing firm Vizergy, "Digital Hotel Marketing in a Multiscreen World." While it's targeted specifically at hotel and resort marketers, the lessons apply to just about any business. You can get your free copy of the report here.
You can also check out these slides and video from my recent webinar, "Digital Marketing Directions: Three Key Trends Driving Your Marketing Next Year":
And, if you're looking for still more insights and information to guide your marketing this year, check out some of the best of Thinks here: