Freezing? 8 Fabulous Marketing and E-commerce Posts to Warm You Up: E-commerce Link Digest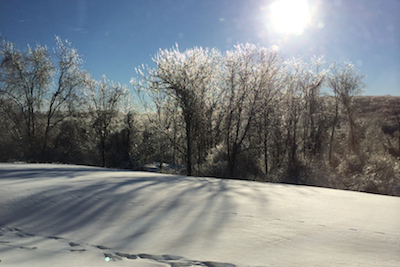 I don't know about you, Big Thinkers, but in my neck of the woods, we've reached "Hell Freezes Over" temperatures this weekend. The forecast for today has a high of 14 degrees Fahrenheit—that's -10 C for all you metric-minded Big Thinkers out there—with wind chills taking the lows this weekend down to -15 degrees (roughly -25 C). Ugh. I plan to hibernate, with a roaring fire, a big bowl of chili, and these 8 fabulous marketing and e-commerce posts to keep me warm. Enjoy:
Leading off, Marketing Charts shows how smartphone-owning millennials expect brands to use technology. Thinks follows that up with an excellent post that shows we've reached another mobile and millennial milestone. And finally, we also highlight how mobile will disrupt your industry and offer 3 ways to protect your business. All very much worth the read.
The Future of Commerce blog shows that email remarketing and retargeted ads offer the highest ROI in e-commerce. eMarketer builds on this, asking a couple of questions that underscore the continued importance of building your data and using the right technology to enable the retargeting process. The first, "Are You Happy with Your Email List Size?" looks at the most effective tactics for growing your list. The second post, "What Are the Benefits of Marketing Automation?" does exactly what it says on tin, explaining why marketing automation makes sense for brands and businesses. Great stuff all around.
Speaking of personalization and retargeting, the Future of Commerce blog asks "Should you optimize and personalize web experiences for B2B customers?" The answer: Of course you should. You might also want to take a look at this comparison of B2B and B2C digital marketing tactics. B2B and B2C aren't as different as you might think, and the two disciplines can learn a lot more from what each other do. Well worth a moment of your time.
All this talk about marketing automation, retargeting, and the more technical side of digital underscores why my most recent post for the Rutgers Business School Executive Education blog looks at "Marketing vs Math." I've recently been doing a lot of teaching for Rutgers Business School's Mini-MBA programs in digital marketing and social media marketing and highly recommend the programs for anyone looking to learn more about these incredibly important fields.
Shifting gears to the mobile payments front, eMarketer suggests retailers aren't prepared for the move to EMV, which could explain why Mobile Commerce Daily thinks 2015 will not be the tipping point for mobile payments. For the record, I think we've already passed the tipping point on digital wallets. Why? Well, as the Mobile Commerce Daily post itself notes, "A recent report from 451 Research found that the number of consumers likely to make mobile payments has increased just 2 points in the past year for a total of 24 percent." When 1 in 4 customers is already likely to use the technology, that's hardly "fringe." And, particularly once EMV starts holding retailers, restaurants, and hospitality locations liable for fraudulent purchases this coming October, there's going to be lots of incentive to move to new, mobile-ready readers. Expect big movement towards mobile payments then, too, once there's more widespread retail adoption of the necessary tech. Remember that e-commerce is a lot more than just one channel and customers are going to demand this support, too.
The latest episode of Thinks Out Loud asks "Is Customer Experience the Future of E-commerce?" The answer is undoubtedly "yes." But check out the entire episode to see why as well as how you can turn that trend to your advantage.
I'd mentioned GetElastic's terrific post explaining why, for online commerce, net neutrality is about speed last week. Well, I've finally posted my big follow up on this important topic that examines the simple truth about net neutrality for your brand and business. It's lengthy, but well worth the read when you get a moment.
And finally, there are a couple of big search stories from the past week worth checking out. The first is the long-overdue news that Twitter will give Google access to "firehose" of Tweets once again. It's about time. The second asks, a Apple-Google deal expires, who will win the Safari default search business? My money's on Google winning the business again—I just don't see a realistic alternative. The real question is what Apple's going to require of Google to keep this lucrative business —and, given the competitive pressure from mobile giving Google such recent trouble, how far they'll be willing to go to keep it.
Stay warm this weekend, Big Thinkers, wherever you may be. And if you need even more to carry you through to next week, check out this round-up of 8 Great Mobile Marketing and E-commerce Reads for a Snowy Weekend, these 7+ Super E-commerce and Mobile Must-Reads to Enjoy Before the Big Game: E-commerce Link Digest, these 7+ Marvelous Mobile E-commerce Posts: E-commerce Link Digest, and the rest of our E-commerce Link Digest series.
If you want to learn even more about how customers changing behavior shapes e-commerce and marketing, be sure an register to receive a special report I've produced in conjunction with hotel marketing firm Vizergy, "Digital Hotel Marketing in a Multiscreen World." While it's targeted specifically at hotel and resort marketers, the lessons apply to just about any business. You can get your free copy of the report here.
You can also check out these slides and video from my recent webinar, "Digital Marketing Directions: Three Key Trends Driving Your Marketing Next Year":
And, finally, you might want to take a look at some of our past coverage of the e-commerce, mobile commerce, and digital marketing overall, including: