How Does On-Property Mobile Affect Your Brand? Travel Tuesday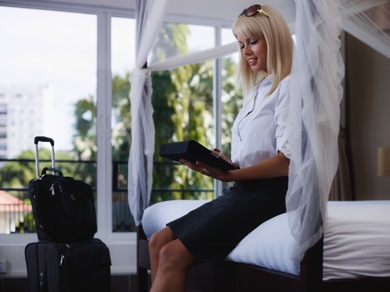 Last week, we looked at how Accor is doing on-property mobile. Now this week, Mobile Marketer highlighted a talk from Vikas Chawla, vice president of mobile and digital guest experience, that noted 25% of Marriott guests use mobile during hotel stay.
Pretty cool, eh?
However, even more important is this fact:
"Mr. Chawla reported that one in four Marriott hotel guests' uses mobile services during their stay, and four out of five of these users said they have a stronger impression of Marriott after using mobile versus competitor check-in arrangements." [Emphasis mine]
The takeaway: Your guests increasingly use mobile to solve their problems and address those needs. And if those needs and problems happen to occur on-property, why wouldn't they choose the same tools they use everywhere else?
Now more than ever, the message for travel marketers remains clear: mobile matters.
Interested in learning even more about the future of e-commerce and marketing via the social, local, mobile web? Register to receive a special report I've produced in conjunction with hotel marketing firm Vizergy, "Digital Hotel Marketing in a Multiscreen World." While it's targeted specifically at hotel and resort marketers, the lessons apply to just about any business. You can get your free copy of the report here.
You may also want to review the tips in my recent presentation Digital Marketing Directions: Three Trends Shaping 2014 Hospitality Internet Marketing:
And you might also enjoy some of our past coverage of the social, local, mobile web and what it means for your business, including: