How Google, Uber, and Foursquare Plan to Revolutionize Travel (Travel Tuesday)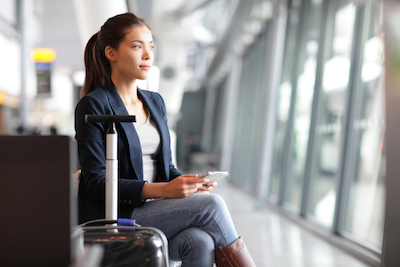 I've said for a long time how, when it comes to e-commerce generally and mobile commerce specifically, we're still living in the cave painting days. You might think that sounds crazy, but it's true. A group of stories from the past couple days only serves to highlight that point—and to provide travel marketers for a better sense of where we're heading.
First up, Koddi explains Google's new Trip Planning capabilities, noting
"Within a few clicks, the user can get destination details on flights, hotels, restaurants, points of interest, weather, and general travel info like popular times to visit. This information has always been available in Google's ecosystem, but now it exists in an easy to consume format."
Now this is all "top of funnel" activity, targeting guests early in their travel shopping experience. But it also connects a ton of activities that travelers typically spread across a number of sites and sessions. Time will tell whether your guests accept Google as their go-to source when planning their entire journey, but it's an early indicator that maybe we've used the term "online travel agent" too aggressively, without providing the concierge-style, end-to-end service that travelers actually need when planning their itineraries.
Also looking to accommodate travelers during the planning stage, Foursquare has built a social trip planning tool, says The Next Web:
"…type where your next trip will take place—whether it's Sonoma, California or Shanghai, China—and Foursquare spits out an easy to manage URL to share with friends and family through every practical communication method. Foursquare promises to tabulate responses into a map to point you towards specific places suggested by friends. The resulting map is then saved to your phone."
Note how seamlessly this new functionality incorporates mobile and social into the travel shopping experience. Foursquare clearly recognizes how integral a role social and mobile play for travelers—and have made them a key component of the overall travel planning process, not an afterthought.
Not to be outdone, Uber's getting into the mix with its new "Trip Experiences" offering. Business Insider explains:
"The idea behind Trip Experiences is to make the apps on your phone smarter, or more "magical," during an Uber ride. That could mean Spotify knows how much time you have in the car and queues up the perfect playlist. Or maybe your favorite news app knows to show you a 10-minute briefing of the day's headlines."
Obviously, Uber's playing to its strengths here, worrying more about the rider's experience than anything else. But—and this is key—they're only just beginning to explore where this will go. As the Business Insider article continues:
"Uber's Saad thinks apps having knowledge of your trips could unlock entirely new use cases, like a hotel app being able to check you into your room as you arrive in an Uber car. Trip Experiences may start off as something simple, like a time-tailored news briefing, but eventually they could make all the apps you use smarter."
Um… yeah. That would be something, huh? Again, remember we're still in the cave painting days.
Clearly, we'll have to see whether travelers will shift towards making Uber, Google, or, for heaven's sake, Foursquare(!) a core part of their travel planning and stay. But they've certainly embraced Booking.com, TripAdvisor, Expedia, and Travelocity over the last decade-plus—and all of those players started with far less mindshare.
The key takeaway from all of this is to note who's working to improve the overall travel experience—and who isn't. Hotels and airlines have a role to play here. And generally, could be doing a much better job. While you might welcome new entrants—and probably should—to increase competition with the major travel intermediaries and, ultimately, lower your costs, be conscious of whether you're merely substituting one gatekeeper between you and your guest for another.
Ultimately, we're all looking for the right way to provide the best experience all through the traveler's journey—and to profit from providing that experience. As Marcelo Sapone writes over on PSFK:
"Up until this point, technology's central design principle was to take humans out of the picture. Yet of course, this is fundamentally at odds with the concept of hospitality, which is wholly concerned with where it can harness the power of human touch… In many ways we simply haven't gotten around to creating hospitality tech yet. Right now, our apps are focused on services as a transaction and the ways to make them more efficient. However, real service is defined as a relationship, not a one-way transaction."
There's no doubt that with these new offerings, Google, Uber, and Foursquare plan to revolutionize travel. So do Expedia, TripAdvisor, and Priceline. And plenty more are waiting in the wings, planning their attack. Plenty of opportunities exist to help guests all through the travel experience. The question is whether you're ready to get out of the cave.
If you're looking to learn even more about how changing guest behavior shapes hospitality marketing, e-commerce, and distribution, be sure an register to receive a special report I've produced in conjunction with hotel marketing firm Vizergy, "Digital Hotel Marketing in a Multiscreen World." While it's targeted specifically at hotel and resort marketers, the lessons apply to just about any business. You can get your free copy of the report here.
You might also want to take a moment to review the slides from my recent webinar, "Digital Marketing Directions 2016: The Key Trends Driving Your Hotel Marketing Next Year" here:
Finally, you will definitely want to check out some of our past coverage of the mobile, local, social web and how to make it work for your hotel, including: