How Safe Is Your Hotel from Airbnb? Hint: Not Very. (Travel Tuesday)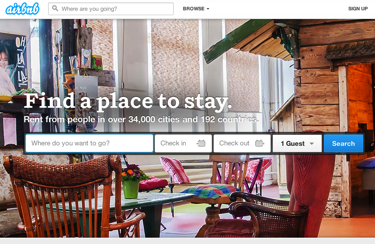 If you haven't read Vikram Singh's brilliant explanation about why Airbnb works over on Skift, you should. Vikram cuts to the heart of Airbnb's appeal noting,
"Over the past few years, I have noticed a very interesting trend: People do not care as much as they used to about hotel brand when they plan their travel. What they care about is a hotel's location, value, and reviews." [Emphasis mine]
Why the added emphasis? Because Vikram's "location, value, and review" align precisely with my findings about the importance of price, proximity, and quality in driving guest purchase decisions (the P's & Q's model).
This isn't just about Airbnb, of course. No, what this shift underscores is that your customers seek greater value than what they're finding from established hotel brands.
Want more proof that there's something to this? OK. Here's one: The Priceline Group stated at PhoCusWright a couple weeks back that they see their Booking.com and Agoda brands as "very much accommodation sites, not hotel sites." As Jason Q. Freed from Hotel News Now notes, this positions the brands squarely against Airbnb and HomeAway.com.
Vikram continues,
"Review websites like TripAdvisor have changed the game. Independent hotels that provide exceptional service and value get great reviews on TripAdvisor, and start moving to the top-ranked spots in their cities. This leads to a tremendous increase in brand name searches conducted by travelers who start researching on TripAdvisor and then move to Google search. In the end, this review-driven ecosystem funnels more revenue to hotels that are treating guests well." [Again, emphasis mine]
I couldn't agree more. Lots of data supports these findings:
Airbnb represents one approach to adapting to a changing reality and engaging consumers on their terms. By no means will it be the last. TripAdvisor, already a trusted source of travel reviews, could easily add residences and apartments to its platform. Just what hotels need, more competition for site placement and the guests that brings. And, of course, these channels simply highlight alternative room inventory for guests. The real question is why guests feel compelled to look for something better than what you're offering.
Obviously, other attributes factor into your guests' consideration set, beginning with the destination selected. Fundamentally, though, your guests' question isn't "Why should I travel to [insert destination here]?" Instead, it's this:
"Why should I stay with you?"
If you're interested in learning more about the future of e-commerce and marketing via the social, local, mobile web, register to receive a special report I've produced in conjunction with hotel marketing firm Vizergy, "Digital Hotel Marketing in a Multiscreen World." While it's targeted specifically at hotel and resort marketers, the lessons apply to just about any business. You can get your free copy of the report here.
You might also enjoy some of our past coverage of the social, local, mobile web and what it means for your business, including: