Kiss Your Current Conversion Rate Goodbye (Travel Tuesday)
I've been talking a fair bit over the last few weeks about how upcoming search enhancements will influence behavior among consumers, particularly due to mobile and voice-powered search.
Today, I'd like to look at one effect of these changes: What they're likely to do to your conversion rates.
For starters, take a look at this screenshot: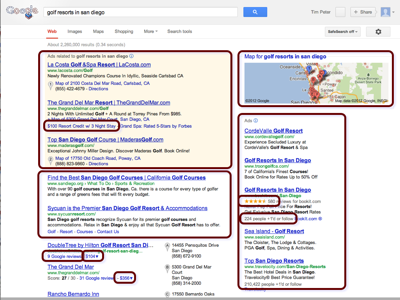 (Click to embiggen)
Obviously, your customers see loads of information — or, in the conversational search scenario, will have it read to them — every time they search. In just this one example, you've got:
Paid search
Organic search
Maps
Ratings
Reviews
Social indicators
Prices
Promotions
That represents lots of detail for your guests to absorb, even if they're only looking at a single property. Add in the multiple results possible, and the amount of information boggles.
Of course, the more options your customers have, the more difficult their choice
becomes.
Now, it's possible that improved targeting will help you reach only the most relevant customers and help you maintain your current conversion rate. But, when you consider the changes in both the "traditional" search engines (i.e., Google, Bing, etc.), and add in sites like TripAdvisor adding meta-search capabilities, it's pretty clear you're going to see a much larger proportion of shops relative to purchases.
This isn't all terrible news.
For instance, a falling conversion rate isn't always a bad thing. As long as both conversions and traffic increase, you're still getting the benefit of that traffic (if at a lower rate — you can read much more about this phenomenon here).
But, there's no doubt shift continues to illustrate why you want to build up your mailing list, engage your guests directly via social, and seek worthwhile distribution channels for finding, attracting, and converting new customers. Relying on search isn't a losing game, not at all. It is changing though. And you need to change with it.
Interested in learning more? Register to receive a free copy of my new special report, "Digital Hotel Marketing in a Multiscreen World," produced in conjunction with Vizergy, here. While it's targeted to the hospitality industry specifically, most of the lessons apply across verticals. And, if that's not enough, you might also enjoy some of our past coverage of the social, local, mobile web, including: