4 Amazing Global Internet Trends
Mary Meeker's semi-annual report on the state of the Internet is out. And, wow, are there some serious takeaways worth reviewing. Here are the highlights:
Mobile's on fire
Mobile now represents 15% of all Internet traffic — and its market penetration at only 21% globally. It's at 31% annual growth and its trend line continues to accelerate. I've been bullish on mobile for a while. This is why: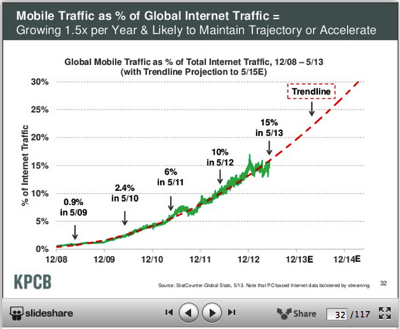 And "wearables," "drivables," "flyables," and "scannables" may change the game further — each generation of technology, historically, increases the number of users by a factor of 10: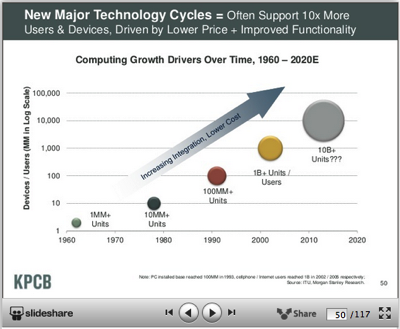 Tablet growth is sick
I don't know any other word for it. Check out the orange trend line: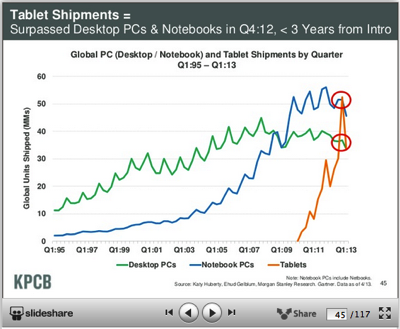 Obviously, not all tablet usage is mobile. I've said many times that mobile is a situation, not a device. But your customers' experience will continue to rely on "touch" and voice experiences at the expense of the keyboard-and-mouse world we've taken for granted over the years.
Sharing is big and getting bigger
There's big growth in consumer sharing, both in terms of percentages and in terms of the channels your customers use. As I noted yesterday, this trend will likely increase the number of places your customers shop and push conversion rates lower. The positive, though, is that it increases opportunities to reach customers and gets your existing audience to tell your story. So, there is that: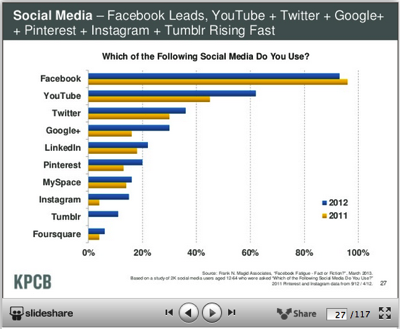 The visual web
I've talked about how the web is increasingly visual before. But the numbers boggle my mind, with more than 500 million photos uploaded daily and more than 100 hours of video uploaded to YouTube every minute: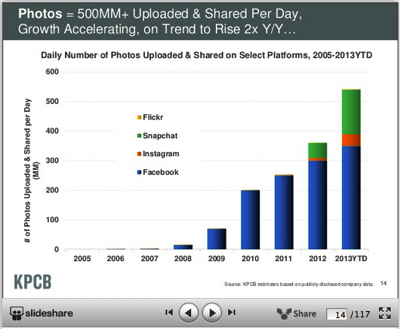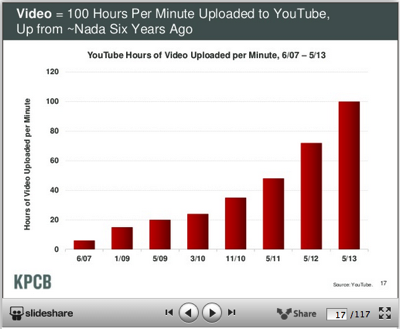 There's tons of good stuff I'm leaving out here, of course, including the importance of global growth (especially China), the changing market for entrepreneurs, and lots more. You can (and should) review the whole presentation here:
Interested in learning more? Register to receive a free copy of my new special report, "Digital Hotel Marketing in a Multiscreen World," produced in conjunction with Vizergy, here. While it's targeted to the hospitality industry specifically, most of the lessons apply across verticals. And, if that's not enough, you might also enjoy some of our past coverage of the social, local, mobile web, including: