Learning 21st Century Social, Local, Mobile and Video Marketing From a 19th Century Company
Looking to drive results for your business? Click here to learn more.
---
You all know Macy's, right? Y'know, the folks behind the Thanksgiving Day parade and corporate mergers and "Miracle on 34th Street"? They're a 150-year old retailer, as "bricks and mortar" as you can get.
But, for an old dog, they've got some new tricks. They're starting to get in front of 21st-century customers with a local, mobile, social web presence, complete with video.
Here's what I mean.
I was walking past the retailer's flagship 34th Street store yesterday and saw this clever graphic on their window: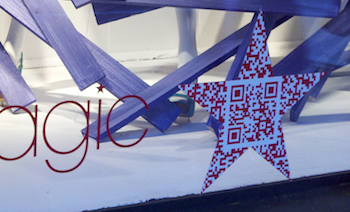 Cute, right? A nice, clever way of embedding a mobile QR code into the company's logo. But, without instructions for its use, will any of their customers know what it's about? Smarty-pants that I am, I sent the following tweet:
Nice QR code usage @Macys. But do your customers know how it works? http://t.co/TlwA6jIless than a minute ago via Twitter for Android
Tim Peter
tcpeter
A few minutes later, @Macys (the Macy's Twitter account) responded with:
@tcpeter Thanks for the tweet! For a how-to video, check out this video: http://bit.ly/g3Pl48less than a minute ago via web
Macy's
Macys
Note the embedded link in Macy's tweet to a YouTube video displaying how the company's "Backstage Pass" works. Another Twitter user also let me know that the company is heavily promoting these "Backstage Passes" in the free "AM New York" newspaper.
So, think about this for a second:
Macy's—a 150-year-old retailer—uses QR codes in their store windows,a clear marriage of local and mobile marketing.
This "old dog" reinforces their message via print advertising in a free local daily.
This "dinosaur" monitors the social web on Twitter for use of their brand terms—and responds to their customers there.
This "traditional bricks-and-mortar" store shares videos on YouTube explaining both their value to consumers and how this new feature works.
And, as one last social play, they're gaining interest among early adopters (i.e., me and @JonKagan) who, no doubt, will pass the word along to their friends and family. Just like I'm doing now.
Oh. Even better, each of these efforts directs consumers to Macy's website.
While I think the company can do a better job on specific elements (for instance, an explanation of what a QR reader is in the video wouldn't be such a bad thing and their calls-to-action are a bit weak), it's still a great example of using social, mobile, local and video to create an engaging, integrated web presence to promote your web site.
For a company that got it's start in the 19th century, that's some awfully modern marketing. During the many decades they've been around, the corporation hasn't always gotten it right. But is it possible this kind of thinking is why they're still in business after 150 years? And, is it possible for you to do the same thing?
---
Are you getting enough value out of your small business website? Want to make sure your business makes the most of the local, mobile, social web? thinks helps you understand how to grow your business via the web, every day. Get more than just news. Get understanding. Add thinks to your feed reader today.
And while you're at it, don't forget to follow Tim on Twitter.
Technorati Tags:
call-to-action, E-commerce, e-commerce, E-commerce strategy, e-marketing, ecommerce, internet business, internet marketing, iphone, marketing, marketing best practices, mobile, online marketing, social, social commerce, social marketing, social media, social strategy, strategy, twitter, video, YouTube
If you're looking to learn even more about how changing guest behavior shapes hospitality marketing, e-commerce, and distribution, be sure an register to receive a special report I've produced in conjunction with hotel marketing firm Vizergy, "Digital Hotel Marketing in a Multiscreen World." While it's targeted specifically at hotel and resort marketers, the lessons apply to just about any business. You can get your free copy of the report here.
You might also want to take a moment to review the slides from my recent seminar, "Digital Marketing Directions 2016: The Key Trends Driving Your Hotel Marketing Next Year" here:
Finally, you will definitely want to check out some of our past coverage of the mobile, local, social web and how to make it work for your hotel, including: