Hey Loretta, Remind Me That Google's Got Troubles (Thinks Out Loud Episode 273)
Podcast: Play in new window | Download
Subscribe: RSS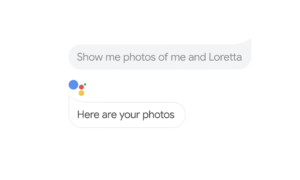 Looking to drive results for your business? Click here to learn more.
---
Hey Loretta, Remind Me That Google's Got Troubles (Thinks Out Loud Episode 273) – Headlines and Show Notes
Google brought down the house with it's "Loretta" ad at the big game this weekend. But that ad showed the benefits and downsides of the tech giant's power — and why Google's got troubles ahead of it. This week's Thinks Out Loud takes a look at why Google's strength may be more brittle than you think — and what you can do to get more business regardless of the challenges Google may face in the future.
Want to learn more? Here are the show notes for you:
Relevant Links – Hey Loretta, Remind Me That Google's Got Troubles (Thinks Out Loud Episode 273)
Subscribe to Thinks Out Loud
Contact information for the podcast: podcast@timpeter.com
Past Insights from Tim Peter Thinks
You might also want to check out these slides I had the pleasure of presenting recently about the key trends shaping marketing in the next year. Here are the slides for your reference:
Technical Details for Thinks Out Loud
Recorded using a Heil PR-40 Dynamic Studio Recording Mic
and a Focusrite Scarlett 4i4 (3rd Gen) USB Audio Interface
into Logic Pro X
for the Mac.
Running time: 16m 32s
You can subscribe to Thinks Out Loud in iTunes, the Google Play Store, via our dedicated podcast RSS feed (or sign up for our free newsletter). You can also download/listen to the podcast here on Thinks using the player at the top of this page.
Transcript — Hey Loretta, Remind Me That Google's Got Troubles (Thinks Out Loud Episode 273)
Well, hello again everyone. Welcome back to Thinks Out Loud, your source for all the digital marketing expertise your business needs. My name is Tim Peter, this is episode 273 of the big show and thank you so much for tuning in, I very, very much appreciate it. I think we have a really, really cool show for you this week.
It was the big football game the other day, just this past week, you know, the superb owl. I don't know if I'm allowed to say the name, because of trademark reasons and I don't want to get sued. But you know the game I'm talking about. And as I've done for, oh my gosh, probably eight years, nine years, maybe a little bit longer I participated in what gets referred to as either #BrandBowl or the #AdBowl where various marketing folks, you know, live-tweet the game and talk about the ads and their opinions of them. These are all professional marketing folks, many with really, really impressive credentials who have a long, long experience in branding and the advertising and the like. And it's this really cool conversation about the quality of the ads and whether or not they're any good, right? Whether or not these ads are doing the job that they should be doing.
Google's Super Bowl Ad — and What it Tells Us About the Tech Giant
And by far, the most polarizing ad of this year's Super Bowl was one from Google. And it featured an elderly man having Google remember things for him. You know, he kept asking Google to remind him about things his late wife, Loretta, liked and it was a charming spot. I mean, from a pure marketing perspective, from a pure advertising perspective, from a pure storytelling perspective, it was a really, really good ad. And yet the reaction from the folks on Twitter ran the gamut from, "Oh my God, that was amazing," to "Oh my God. Google is monster."
And Joel Feder, and I hope I'm pronouncing his name correctly on Twitter, I will link to his Twitter account on the show notes and to his tweet really seemed to capture the moment when he said, "By the way, that Google ad was great. But it proved why Google is terrifying #PrivacyMatters." Now, Joel is the interactive content manager for Internet Brands Automotive. He's got about 8,700 followers and a blue checkmark by his name. I retweeted Joel's post with the comment, "He's not wrong." And the numbers were really extraordinary. My tweet was seen over 10,000 times with roughly 50 engagements, which is only a 0.5% engagement rate, but that's, you know, pretty decent for most typical tweets that I see on my account.
You know, by contrast, I get typically about 2,000 impressions a day. And while my annual AdBowl/BrandBowl live-tweeting of the Super Bowl skews the averages a fair bit, that single tweet accounted for roughly 12% of all of my views for the entire day of Sunday.
And to point out, I have roughly 6,100 followers and no blue checkmark by my name. So what's going on here? Why did this one tweet strike such a nerve? Why did this one ad strike such a nerve? And I think it's really critical to examine what's going on here.
What Brand Ads Should Do — Hey Loretta, Remind Me That Google's Got Troubles (Thinks Out Loud Episode 273)
Another really popular tweet of mine during the BrandBowl and a great discussion that we were having overall was about how and I'm paraphrasing what I'd said, but you know, I said the best ads tonight of which there have been far too few have connected to the benefit/brand very effectively. And I followed that up by saying, "the point isn't for the ad to get folks talking. It's to get them talking about the benefits you provide."
And that's really the key of what's going on here. I think Google's display of their abilities is amazing. It's also terrifying because of the volume of data they have about us every day in our lives. You know, they're amazing. Their tech is spectacular, but we've got to recognize the amount of data they have about us and our customers, and the like is pretty spooky sometimes.
You know, in the past I referred to Google as the company that scares your industry's 800 pound gorillas. And this ad shows why they have the incredible ability to know unbelievably personal details. I mean, again, this was a really moving commercial. This is an elderly man. He happens to be the grandfather of a Google employee, who's asking Google to show him pictures of his late wife and remind him of so many of the things he loved about her. So that's incredibly cool. It's also incredibly intimate details about a person's life.
Now, I've talked about you know, all year long last year, you know, I asked "in digital is Google your enemy" and "how worried are you about Google next year" and how "gatekeepers are gonna gate," including Google in that, and why "Google was the hotel marketing and distribution trend you care about most in 2019" and "why Google keeps winning and how you can win too," and also advising people to "stop outsourcing your sales and marketing to gatekeepers like Google." And I will link to all of those in the show notes, but it's staggering the volumes of data that they have.
Google's Brittle Strength — Hey Loretta, Remind Me That Google's Got Troubles (Thinks Out Loud Episode 273)
Now, the flip side is I'm beginning to question whether or not we've hit "peak Google." You know, one of the things I like to do on this podcast is I like to talk about here's a trend, or here's a topic you should be thinking about you know, here's why it matters and here's what you can do about it. And in those podcast episodes I just discussed, I have a number of techniques for things you can do to deal with them, including a really good one from a few years back that said, "how to compete with Amazon and Expedia and Google and dot, dot, dot." That's episode 221. And again, I will link to all these in the show notes.
But I also think you should have a little bit of patience because Google isn't foolproof. Now, the most obvious evidence is that Google put out their earnings report just a couple of days ago, just yesterday actually. And they got hammered. They had a really terrible end of the year, a really terrible quarter. A and a lot of it has to do with the fact that 84% of their revenue comes from ads with most of that, another 84% as it happens, coming from Google and YouTube alone.
Google Breaks Out YouTube Revenue
You know, they broke out YouTube revenues for the first time, and they (YouTube) did $15 billion in ad revenue last year, which is amazing. But it was a little bit of "look over here," away from the fact that they missed their overall earnings target for the quarter by $800 million. Now, this is a company that does, you know, billions and billions of dollars per quarter, you know, $25-$30 billion a quarter. So $800 million is not a huge percentage. But it's also $800 million, right? It's not a trivial number. So that's really a challenge for them. And the reason is, as my friend Mike Moran says, they're a one product company. They have ads and they have nothing else.
Now, to be fair, that's a good problem to have. It's like having a huge income tax bill, right? You can't have a big income tax bill if you don't have a lot of income. They, you know, only have one product, but that product is making them tens of billions of dollars per quarter, and you know, $100 billion a year.
Google's Competition
But the point is that Google is incredibly strong, but it's a brittle strength. They face unbelievable competition from Facebook and Alibaba and Tencent and increasingly Amazon in advertising. They face incredible competition from Apple and Samsung and maybe Huwei in mobile. They face incredible competition from Netflix and Amazon and Tencent in video. And so on. You know, they've really struggled to figure out how to grow their business in new and interesting ways, and that could be a sign of what's going to hurt them in the long run.
It's also why you want to diversify, like I've talked about in "how you compete…". Because it also underscores the fact that they increasingly have to find ways to grow, to monetize the traffic that they receive. And if they can't find ways to do it, they're just going to have to raise prices to advertisers. And I'd bet that includes most of us. You know, it certainly includes me and my clients. I bet it includes you too.
I don't think Google's going to go out of business in 2020 or 2021 or 2022 or anything else. You know, if for no other reason, even if they completely, completely do a horrible job for the next few years, they're sitting on over a hundred billion dollars in cash. Inertia is a really powerful thing when you've got that kind of money. And you're not going to go out of business or get knocked off your throne too quickly when you're sitting on a pile of cash that large. And all of that ignores any regulatory threat that they may face, whether it's in the EU or California or the United States. Probably in 2021 once we get the U.S. Presidential election behind us. So they have incredible competitive challenges and they probably have some pretty significant regulatory challenges ahead of them.
If you were to ask me would I rather be Google than not be Google, I would absolutely choose being Google every day of the week and twice on Sundays. They're not in a horrible position by any stretch.
But they also face more competitive threats than they ever had. They're struggling to grow more than they ever have. They have failed repeatedly to introduce new products that can diversify the way that they make money, and as a result, they're looking to hoover up more data and raise prices to advertisers so that they can continue to grow. So they're going to remain the beast that scares your industry's 800 pound gorillas for the foreseeable future.
But what you want to do is start to look at ways that you can be less dependent upon them so that you can start looking for other ways to drive traffic and revenue to your business. So if Google should raise their rates or raise their prices, it doesn't come back to bite you. And so that you're better positioned that if they should stumble or if regulators should come in and make them change the way they're doing things, you're not so dependent upon them that they sneeze and you catch a cold.
Hey Loretta, Remind Me That Google's Got Troubles (Thinks Out Loud Episode 273): Conclusion
So my big advice for the moment is kind of wait and see, but also look to find other ways to drive revenue and drive traffic for your business. Because as we saw with the Loretta ad, Google's very powerful and very scary. And to me there's nothing more scary than being dependent on one company who's that powerful in your world, especially if you depend upon them for a significant chunk of your business.
Show Closing — Hey Loretta, Remind Me That Google's Got Troubles (Thinks Out Loud Episode 273)
Now, looking at the clock on the wall, we are out of time for this week, but I want to remind you that you can find the show notes for today's episode as well as an archive of all past episodes by going to TimPeter.com/podcast. Again, that's TimPeter.com/podcast. Just look for episode 273. While you're there, you can click on the subscribe link in any of the episodes you find there to have Thinks Out Loud delivered to you every single week. You can also subscribe to Thinks Out Loud on Apple Podcasts, Google Podcasts, Stitcher Radio, or whatever your favorite podcatcher happens to be. Just do a search for Tim Peter Thinks, Tim Peter Thinks Out Loud or Thinks Out Loud, we should show up for any of those.
And while you're there, I'd really appreciate it if you could provide us a positive rating or review. It helps new listeners find us. It helps them understand what the show is all about and it makes a huge difference for the podcast overall.
You can also find Thinks Out Loud on Facebook by going to facebook.com/TimPeterAssociates. And you can find me on Twitter using the Twitter handle @tcpeter. And of course you can email me by sending an email to podcast@timpeter.com. Again, that's podcast@timpeter.com.
I'd also like to thank our sponsor. Thinks Out Loud is brought to you by SoloSegment. SoloSegment focuses on AI-driven content discovery and site search analytics to unlock revenue for your business. You can learn more about how to improve your content, increase your customer satisfaction, and make your search smarter by going to solosegment.com. Again, that's solosegment.com.
With that. I want to say thanks so much again for tuning in. I really appreciate you listening. I know I say this every week, but I would not do this show without you, so it means so much to me to have you listen every single week. I hope you have a great rest of your week. I hope you have a wonderful week ahead and I look forward to speaking with you again on Thinks Out Loud next time. Until then, please be well be safe and as ever take care everybody.