Marriott Partners with Booking.com. Should You? (Travel Tuesday)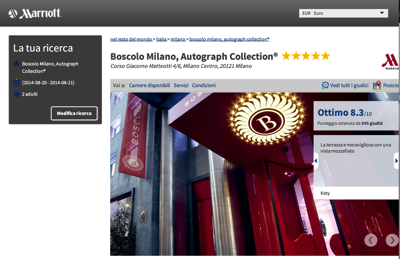 Tnooz reports today on Marriott.com using Booking.com's white label services to power its Italian website. Here's what Booking.com offers:
"Alongside providing intermediaries with a search and booking system, Booking.com was also now offering hotels the chance to take a similar service. It is essentially an extension of the intermediary white label, but instead is tailored for a particular hotel brand, like a customized widget that has been supersized. Each solution is made specifically for an individual chain and takes up an entire web domain owned by that chain."
Apparently, Marriott is the first to test this system, running it on its Italian and Brazilian web domains (marriott.it and marriot.com.br). Rates, images and descriptions appear to mirror Marriott, while the booking interface looks very much like Booking.com. As Tnooz notes:
"How deep a hotel chain wants to get in with Booking.com is a key question in all this – hotels have a delicate balancing act to tackle, as they look to increase direct bookings but also know that the Booking.com is a large distribution network (frenemies in action, perhaps)."
The knee-jerk reaction among commenters on the Tnooz post — one I initially shared — is that this is a terrible idea. As one commenter stated:
"Clever. Making hoteliers more and more dependent on booking.com since 1996."
But, here's a question: Is this such a terrible idea? I'm not so sure. At least not for Marriott.
Clearly a number of risks exist. First, it's clear OTA's and other intermediaries continue to drive up the cost of customer acquisition. Letting the OTA's take further control of the booking process is not a recommended way to protect yourself from rising costs.
And, as mentioned in "6 Key Secrets Every Hotel Marketer Should Know," you need to own your customer data. Marriott is potentially making a huge mistake if they're providing Booking.com with even more data about guests and their behavior.
Most importantly, I worry the message this sends to Marriott's franchisees. Is the company unwittingly telling its hotel owners and operators that Booking.com can offer many of the same benefits the brand does? That would be a huge mistake in the longer term.
That said, Marriott isn't most hotel companies (full disclosure: I know quite a few people in Marriott's e-commerce, distribution, and marketing teams; they're all smart folks and, I have little doubt, they thought about this long and hard). They've got to serve the needs of almost 4,000 properties in 70 countries. In a prior post, I cautioned hotel marketers against thinking about OTA's as the enemy, noting,
"…think about your overall web presence and, for that matter, market presence, and how you can reach guests most effectively and efficiently."
It's possible — and I'd think, highly likely — that Marriott asked itself, "what's the best way to serve our hotel franchisees and guests in markets where we don't have a strong presence?" and determined that Booking.com gives it market presence for a more reasonable cost while the company builds out its own in-market capabilities.
I've talked before about why best practices aren't always best for your brand or business. This may be one of those times. While this may be a good deal for Marriott, I can't imagine that being true for many hotels, particularly independents. For Marriott, assuming they've thought through the long-term implications of this deal for their franchisees and their future, this probably makes sense — particularly if it's a short-term play. For anyone else, I'd stick with my knee-jerk reaction, and tell Booking.com to find another partner.
Interested in learning even more about the future of hospitality e-commerce and marketing via the social, local, mobile web? Register to receive a special report I've produced in conjunction with hotel marketing firm Vizergy, "Digital Hotel Marketing in a Multiscreen World." Developed specifically at hotel and resort marketers, the lessons can help your business adapt to the changing guest environment. You can get your free copy of the report here.
You may also want to review the tips in my recent presentation Digital Marketing Directions: Three Trends Shaping 2014 Hospitality Internet Marketing. I've presented this talk to a number of hospitality and travel-related organizations and you might find it valuable for your business, too:
Finally, you might also enjoy some of our past coverage of the social, local, mobile web and what it means for your business, including: