Will Millennials Use Email?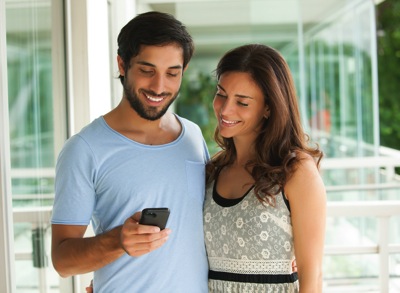 Ever since my post about how to grow your email list, last week's podcast exploring why email marketing still works, and this e-commerce digest featuring millennials and mobile, you've all been sending me loads of emails (ironically enough), asking whether email use applies to millennials. Given all the media channels available to millennials, including mobile, social, search, and apps, will millennials use email as preceding generational cohorts have?
To put it simply, yes, your millennial customers use email too, and I see no reason to assume that will change right away.
Here's why.
First, we know that 7 out of 10 customers in the United States have a smartphone now, with those numbers greater among millennials than any other generation. We also have data that shows more than half of all emails were opened on mobile in 2013, bypassing desktop email clients for the first time ever. Right there, the data suggests that millennials are likely to use email at least as much as Boomers and Gen X.
However, even better data exists. Aweber's Generation Media Explorer shows that 40% of millennials use email to stay connected with their favorite stores, more than Facebook, Twitter, Instagram, Snapchat, or any other channel for that matter.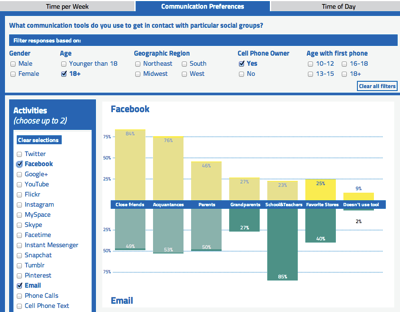 The graphic above shows email vs. Facebook (the second most popular channel), but you can check out the other channels for yourself.
Here's why you should care. The Direct Marketing Association said last year that email averages a 4,300% return on investment. If you think about the costs associated with email marketing, that number shouldn't come as a big surprise. Even a few sales from email can often justify the expense. And when used as part of a comprehensive digital strategy, encompassing search, social, and mobile channels, email can prove even more effective still.
Email marketing remains a valuable tool in any digital marketer's toolkit. Mobile customers read email at increasingly high rates. And because millennials use email, particularly on mobile, it appears likely email will remain a valuable channel for some time to come.
If you're interested in learning more, you can view the slides from my talk about growing your email list below:
And you can learn even more about how customers' changing behavior shapes e-commerce and marketing by registering to receive a special report I've produced in conjunction with hotel marketing firm Vizergy, "Digital Hotel Marketing in a Multiscreen World." While it's targeted specifically at hotel and resort marketers, the lessons apply to just about any business. You can get your free copy of the report here.
You may also want to attend a webinar called Digital Marketing Directions: Key Trends Driving Your Marketing Next Year on Tuesday, September 16. You can read all the details here.
Finally, whether you work with Millennials, Boomers, Gen X, or the Silent Generation, you might also enjoy some of our past coverage of the mobile, local, social web and how to make it work for your business, including: