The 2012 Marketing and E-commerce All-Stars: The Top 9 E-commerce and Online Marketing Blogs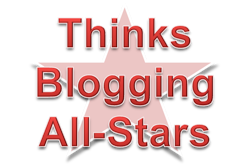 Every year at this time, I like to take the time to recognize the very best online marketing and e-commerce blogs on the web. And much like many All-Star teams, you could make the case for many, many individuals to "make the team." So, this year, I'm going to do just that. But, we'll get to that in a moment. First, here's the list:
There you have it, Big Thinkers. This year's All-Stars. Check 'em out when you get a chance. You might also want to check out the 2011 and 2009 editions of the team, too. And if you think I missed someone, please let me know. Either drop me an email or leave a comment and let me know who you think's deserving. You never know. Next year's coming up quick.
Interested in learning more about e-commerce and digital marketing? Register to receive a free copy of my new special report, "Digital Hotel Marketing in a Multiscreen World," produced in conjunction with Vizergy, here. While it's targeted to the hospitality industry specifically, most of the lessons apply across verticals. And, if that's not enough, you might also enjoy some of our past coverage of strategy, digital marketing, and e-commerce, including: