There Are Two Ways To Grow Hotel Direct Business. One Of Them Has A Future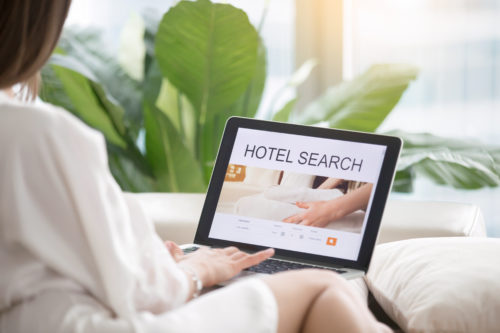 Looking to drive results for your business? Click here to learn more.
---
Here we are in mid-2018, gearing up for our 2019 budget season, and once again everyone's talking about how important it is to grow hotel direct business and get guests to book direct. Brands are putting increased emphasis on loyalty — or at least on offering heavily discounted rates to guests willing to sign up for their loyalty program. Individual hotels are touting their best rate guarantees — or offering heavily discounted rates… Are you sensing a theme here?
In truth, all this is great. Seriously. I'm absolutely in favor of driving direct business. But too often it's focused on the booking. And on discounting. We're spending money to buy the booking. Why aren't we willing to invest to buy interest earlier in the process? We've become so focused on the booking, we sometimes forget how to talk to guests before they're ready to book.
It's time to change that reality.
Why OTA's are Winning
One study shows that guests who start their booking journey on an OTA reserve through OTA's around 93% of the time. Meaning that guests who start on an OTA will choose to book direct only about 7 times out of 100. By contrast, guests who start on a branded website book direct about 60% of the time (though, admittedly, they may not always choose your property to book direct).
To put it more plainly, guests can't book direct, ever, if they don't come to your property or brand website at some point while shopping for travel. Period.
So where's the investment in attracting guests to visit early in their decision-making process — the dream and plan phases, not just when they're ready to book.
Think of it this way. A 150-room property selling for $130/night and running at 64% occupancy with an 18% OTA margin — all roughly average in the current market — typically surrenders about $100,000 in topline revenue to OTA's. How many have demonstrated the willingness to invest a healthy share of that amount in content creation to attract guests early in their browsing, shopping, buying activity? We've said for years that content is king; shouldn't we be more willing to invest in it?
By contrast, that same representative property will generate roughly $900,000 in revenue through its website (assuming industry-average 20% website revenue and giving no credit to web for voice or walk-in). If you include voice and property-direct, those numbers roughly double. How much are you willing to invest to drive that number higher? Would $50k sound too expensive? Remember, that's still half what you're already paying OTA's.
Content Marketing Matters for Hotels
Does this sound crazy to you? Well, here's a crazy idea for you: Google has announced a new program that brings a professional video director to your business to shoot a video advertisement. The price tag? $350 in YouTube advertising. That's it. The search giant clearly understands what customers want; those customers literally tell Google what's important to them millions of times every single day. Do you think Google might know something useful here about customer behavior?
Guests are starved for content about your property, your destination — the attractions, events, shops, festivals, concerts, entertainment and businesses near to you. And the first rule of selling travel to consumers remains "sell the destination first." Research from Google shows that travelers tend to start their travel planning by searching destination-related terms. This is a huge opportunity to attract guests to you early in their planning, place your property at the center of their consideration set, and then turn them into reservations. But only if you're willing to make the investment.
Growing Direct Business — Conclusion
Budget season is right around the corner. It's time to start thinking about where to put your money, where to invest to grow your business next year. This isn't about building a new website or finding a new booking engine or — heaven help us — planning for a new "closed user group" you can sell your property to more cheaply. This is about investing in "the painting" — your property's content — not just "the frame." It's about telling a story designed to attract and capture interest from potential guests. It's about getting them to start their journey with your hotel in mind.
Or you could just continue to pay "loyalty" programs and OTA's and intermediaries to do that for you — to you — again. But I wouldn't recommend it.
If you're looking to learn even more about how changing customer behavior will shape your marketing going forward, be sure an register to receive a special report I've produced in conjunction with hotel marketing firm Vizergy, "Digital Hotel Marketing in a Multiscreen World." While it's targeted specifically at hotel and resort marketers, the lessons apply to just about any business. You can get your free copy of the report here.
You might also want to check out these slides I had the pleasure of presenting recently about the key trends shaping marketing in the next year. Here are the slides for your reference:
Finally, you might enjoy some of these past posts from Thinks to help you build your e-commerce strategy and your digital success: