What Are Google's Plans for Hotel Distribution? (Travel Tuesday)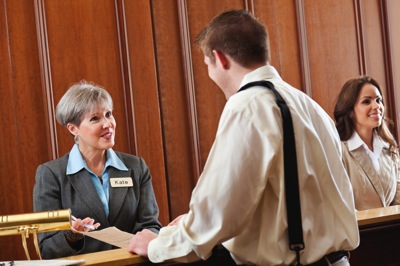 In this past week's Hospitality Marketing Link Digest, I highlighted spectacular research from Evercore [PDF download only], that looked at Google, Expedia, Priceline, TripAdvisor and others in great detail, with a particular focus on Google's plans for hotel distribution. While the whole document is well-worth a read, a number of items jumped out at me:
Google is moving into the hotel space — big time. Google has long looked to enter markets where they can a.) fix broken business models, and b.) make a ton of money. Travel offers both. According to the report (p. 22), OTA's charge over 20% for bookings, on average, while delivering only 8% of bookings globally. In short, OTA's are overpriced as a distribution channel (of course, you already knew that). Google sees these inefficiencies as a way to improve hotel margins and your guest's experience (plus, the fact that it could keep mobile users tied to search and away from OTA apps is another benefit for GOOG).
Search continues to play a major role — and Google's going to use it. Evercore notes that guests perform 22 billion hotel searches each month (p. 9), with between 58% and 64% (leisure/business, respectively), of all travelers starting their shopping on Google. Google knows who the customers are, what they want, and see a big opportunity to sell that information to hotels at a lower cost.
Google's pricing remains to be seen. One possible option is that Google will require dramatically discounted rates for its to-be-named "captive demand" platform, but that's very unclear at this point. Still, they could charge 8%-15% and still be significantly less expensive than the OTA's.
Google Wallet will play a big role. It's possible that Google will want guests to use its Google Wallet as a payment platform (referenced repeatedly in the Evercore research). Given that mobile payments are becoming "a thing," and that mobile is now bigger than desktop at the top of the e-commerce purchase funnel, this seems like a no-brainer.
OTA's won't take this lying down. Finally, Priceline, Expedia, and TripAdvisor didn't get where they are today by simply rolling over when faced with competition. Given the outsized role that Priceline and Expedia play among Google's paid search buyers (#2 and #4, respectively, according to Ad Age), they could play hardball with Google and reduce their spend (not that that's a bad thing from most hoteliers' point of view). They could look to partner with Apple or Facebook or Amazon or Microsoft to offer a competing ecosystem. They could modify their offering (much as Priceline has been doing with its purchases of Buuteeq, Hotel Ninjas and OpenTable) or prices to make themselves more attractive to hotel brands and individual owner/operators. What they won't do, though, is just sit still.
If you thought the distribution and digital marketing landscape for hotels has been complicated up until now, it looks like it's going to get increasingly interesting in the coming weeks and months. In the meantime, use this data to negotiate better deals with OTA's as they come up. Maintain a balanced approach to distribution and marketing.
And, no matter what happens, continue to work on growing your property's reputation and email list to connect directly with guests regardless of the channel(s) they're using. And, stay tuned for more. Things are about to get interesting.
Interested in learning even more about the future of hospitality e-commerce and marketing via the social, local, mobile web? Register to receive a special report I've produced in conjunction with hotel marketing firm Vizergy, "Digital Hotel Marketing in a Multiscreen World." Developed specifically at hotel and resort marketers, the lessons can help your business adapt to the changing guest environment. You can get your free copy of the report here.
Given the overall popularity of the Travel Tuesday series, you may also want to review the tips in my recent presentation Digital Marketing Directions: Three Trends Shaping 2014 Hospitality Internet Marketing. I've presented this talk to a number of hospitality and travel-related organizations and you might find it valuable for your business, too:
Finally, you might also enjoy some of our past coverage of the social, local, mobile web and what it means for your business, including: