What Are Your Customers Actually Buying?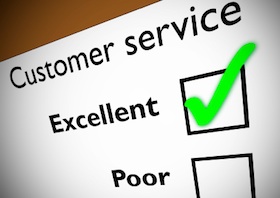 Why do airlines suck? That's the question raised by the just-released Airline Quality Rating Report for 2012 [PDF link]. The report suggests that airlines increasingly get the operational details right. But, despite these successes, customer complaints also continue to grow.
Why?
Well, as NBC News notes,
"…rising customer dissatisfaction with the airlines goes beyond the basics of operational performance. While the AQR analyzes quantitative measures, there are obviously qualitative difference between the various carriers. After all, an airline can be on time, lose few bags and not bump a soul — and still provide a miserable flying experience thanks to cramped seats, lousy food and fees for everything beyond a seat belt and oxygen mask.

"The air transportation experience is suffering from issues that are not measured in the DOT [Department of Transportation] or AQR [Airline Quality Rating]," said Charlie Leocha, director of the Consumer Travel Alliance. For Leocha, other issues, such as proliferating fees, confusing code-share rules and policies that make it difficult for families to sit together without paying extra, add fuel to the flames of passenger frustration."
This is top of mind for me right now, as I'm talking to a group of travel executives next week about customer experience and the high cost of ignoring value (a topic I've addressed before).
Travel is an unusual product, in that, for the most part, there's no tangible good. Someone buying a cashmere sweater at Saks or Target, a book from Amazon or Barnes & Noble, or a mobile phone from Best Buy or Verizon takes home a physical object, some thing they can touch and live with again and again, day after day.
Travel doesn't work that way. You get one shot to get it right. The experience is everything. One bad experience might mean a lost future sale — or worse if they write an online review trashing your product/service and let the rest of the world know exactly how bad you treated them (whether justified or not).
Marketers offering hotels, airlines, rental cars, cruise lines, and rail — or packaging the whole shebang — to their customers have to continually look for ways to improve the experience. This isn't about going above and beyond customer expectations; for many components of the travel experience, just meeting the customer expectation would be a step in the right direction. Sad, but true. As AQR author Dean Headley notes in the NBC piece, "The sad part is that when I get back from a trip and people ask me how my flight was, the best I can say is it was uneventful."
Interested in more? Sign up for our free newsletter and get more information on how to build your social, local, mobile marketing strategy. And, if you've got a minute, you might enjoy some past coverage of customer experience in marketing, including:
And, don't forget, you can have me speak at your next event, too.