What's Up With Google's Latest Mobile Wallet Move?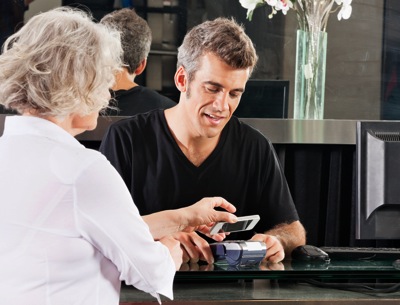 Mobile wallets represent one of the key drivers of e-commerce growth in the coming year. Up until the introduction of Apple Pay, few simple methods existed to allow your customers to pay for their purchases. Think about it. To buy something online, your customers typically have to:
Fill in one or two name fields
Type in their shipping address
Type in their billing address (assuming those are different)
Fish their credit card out of their wallet or purse
Type in a 16 digit number
(Often) fill in the cardholder's name
Enter the card security code (CSC, CVC, CVV, CVV2, whatever)
And click a submit button one (or more) times throughout the process.
Try taking those actions on even a large mobile phone screen. It's a nightmare. And that ignores the reality that many people trying to accomplish that on mobile might be riding as a passenger in a moving vehicle, running through an airport to catch a flight, or walking down a busy street. It seems pretty clear why I think Apple Pay is a game-changer, no?
Of course, as I've said many times, this isn't just about Apple. Google, if they're serious about mobile as a platform, have to get into the mobile payments game in a big way (I mean more than just their current, somewhat hobbled Google Wallet offering). Well, TechCrunch is reporting that Google's doing just that, apparently showing some interest in buying Softcard, a joint venture from AT&T, T-mobile, and Verizon that works similarly to Apple Pay (TechCrunch notes that other AGFAM players like Microsoft and PayPal may also be interested).
Mobile commerce represents the future of e-commerce. Google has made big moves to prove how big a role mobile plays in commerce overall. And mobile wallets will play an even bigger role in shaping the future of mobile commerce. Apple's made steady progress in the space. And as Google, Microsoft, Amazon, Facebook, PayPal and others get on-board, don't be surprised when your customers do too.
If you want to learn even more about how customers changing behavior shapes e-commerce and marketing, be sure an register to receive a special report I've produced in conjunction with hotel marketing firm Vizergy, "Digital Hotel Marketing in a Multiscreen World." While it's targeted specifically at hotel and resort marketers, the lessons apply to just about any business. You can get your free copy of the report here.
You can also check out these slides and video from my recent webinar, "Digital Marketing Directions: Three Key Trends Driving Your Marketing Next Year":
And, finally, you might want to take a look at some of our past coverage of the e-commerce, mobile commerce, and digital marketing overall, including: