When More is More: Upselling as a Sales & Marketing Tactic (Updated May 18, 2020)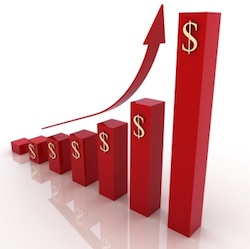 Here's a staggering statistic about the hospitality industry: On average, roughly 30%-40% of all room inventory goes unsold most nights (obviously, the number varies depending on seasonality and the like).
The thing is, this isn't news. According the AH&LA, hotel occupancy has ranged between 63% and 70% since the 1960's. And in our current Covid-19 influenced society, these numbers have only skyrocketed. This, despite loads of new distribution models, shifting industry alliances, consolidation among suppliers and distributors, and on and on and on.
So, here's a thought: Why bother? I'm serious (at least to a degree). Instead of working like crazy to drive increases in occupancy, why not look to improve revenues from existing customers?
That's the premise behind a Nor1 and HSMAI whitepaper , "When More is More: Upselling as a Sales & Marketing Tactic."
Upselling offers hotel marketers and revenue managers the opportunity to increase their share of wallet from existing guests by providing these guests valuable options following their reservation. It's all about understanding what your guests value and anticipating their needs. And it's a great example of offering your guests more value throughout their purchase path.
The paper examines best practices for making upselling work in your business, highlighting the importance of:
Process. This includes identifying all products available for upsell; reviewing amenities in the hotel, including room types and views, to offer your guests the greatest value; and determining the appropriate time and at what price to offer these amenities.
Data. Including tracking your guests' preferences following their stays and using predictive analytics to suggest offers, timing and pricing based on guest behavior.
Technology. Making best use of the tools available to hotel marketing teams to help track your guests' changing needs and offering the right value to guests at the right time to capture the sale.
Personnel. Getting every member of the hotel team to work together to provide your guests a great experience during the reservation process, and providing guests the best offer at the right time such as via pre-arrival email blasts, at check-in, during the stay and following the stay to ensure both repeat visits and increased satisfaction.
Of course, upselling isn't a "silver bullet." When seeking to initiate an upselling program, make sure you avoid the following mistakes:
Upselling before closing the initial sale. Don't present an upsell offer too early in the process or you'll risk the overall sale. You must first sell something to the guest before you can upsell them.
Worrying about guests 'gaming' the system. Properties avoid upselling in fear that the guest will request and receive free upgrades on subsequent stays after enjoying premium amenities. However, selling upgrades can enlighten the guest to what all the hotel has to offer, and once they experience a premium service, they are likely to request it again.
Improperly valuing the upgrade. Consumers focus on the relative value of one thing compared to another, and price upgrades should come accordingly. Guests are unlikely to pay for a service that costs twice as much as their hotel room but may be enticed by an upgrade to a suite for a diminutive cost.
Not investing in the appropriate tools. It's difficult to anticipate a guest's needs without having known his or her purchase history and preferences. The correct tools can lead to better guest experiences, retention and recommendation.
The paper covers these topics and a whole lot more in much greater detail. You can download you copy here.
Interested in learning more about the future of marketing? Register to receive a special report I've produced in conjunction with hotel marketing firm Vizergy, "Digital Hotel Marketing in a Multiscreen World." While it's targeted specifically at hotel and resort marketers, the lessons apply to just about any business. You can get your free copy of the report here.
And you might also enjoy some of our past coverage of the social, local, mobile web and what it means for your business, including: