11 Excellent E-Commerce Entries from the Past Week: E-commerce Link Digest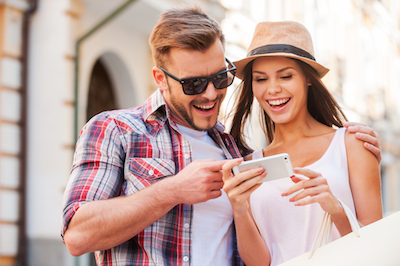 Happy Friday, Big Thinkers. I hope you've got a fun weekend planned. I don't want to keep you from it. Instead, take some time when you have a moment to check out these 11 excellent e-commerce entries from the past week. Enjoy:
Our "Dumb Headline of the Week" award goes to Luxury Daily for this gem: "42% of consumers have never shopped on mobile." Um… so you're saying that 58% of consumers have shopped on mobile. Because, y'know, that's a lot, especially considering that not that long ago, it wasn't possible for anyone to shop on mobile. Call me crazy, but this seems like fabulous news, not remotely negative.
On a highly related note, we took a long look at the big lie about mobile commerce everyone's telling right now
And speaking of mobile, eMarketer says that for CPG, mobile promotions push targets to store. And that's a very good thing.
Another great eMarketer post talks with Ryan Bonifacino, jewelry retailer Alex and Ani's CMO, for his insights on mobile social audience targeting. Be sure to check it out.
Our old friend Linda Bustos from GetElastic has a fantastic look at buyable pins and the future of e-commerce. Such a good post.
And keeping with the visual commerce theme, Mobile Commerce Daily offers this great Q&A with JCPenney executives who say visual search simplifies shopping research for consumers. If "orange is the new black," then visual media is the new orange. Videos and visuals matter a ton in e-commerce and that's a trend you'll see — pun intended — lots more heading into next year.
A recent post here on the blog suggests that Google's Android Pay (maybe) addresses its mobile wallet problem . Well worth a few minutes of your time.
Mobile Commerce Daily says 33% of customers who use social for customer service get no response. Well, that's terrible. Let's hope they're not your customers. Because, otherwise, they won't be for long.
Marketing Charts asks, "Which Advertising Channels Have the Biggest Purchase Influence on Millennials?" Happily, they offer answers, too.
A recent episode of our e-commerce and digital marketing strategy podcast, Thinks Out Loud, broke down the Mary Meeker 2015 Internet Trends Report in some detail for you.
And, finally, I don't usually include past link digests in the weekly round-up, but this list of "9 Killer Posts Featuring This Year's Key Digital Marketing Trends" was so popular among your fellow Big Thinkers on Twitter this past week that I didn't want you to miss it. You also won't want to miss these "9 Marvelous Mobile Marketing and E-Commerce Columns: The Top Posts of May, 2015."
And, if you like what you've seen here, why not check out other entries from our E-commerce Link Digest series, including these "9 Mind-Blowing Mobile and Social Commerce Posts," these 10 Damn-Good Digital Marketing Posts: E-commerce Link Digest , another 10 spectacular mobile marketing and e-commerce essays, and this set of 6 major stories about Millennials and mobile commerce.
Do you want learn even more about how your customers' changing behavior shapes e-commerce and marketing? Be sure an register to receive a special report I've produced in conjunction with hotel marketing firm Vizergy, "Digital Hotel Marketing in a Multiscreen World." While it's targeted specifically at hotel and resort marketers, the lessons apply to just about any business. You can get your free copy of the report here.
You can also check out these slides and video from my recent webinar, "Digital Marketing Directions: Three Key Trends Driving Your Marketing Next Year":
And, finally, you might want to take a look at some of our past coverage of the e-commerce, mobile commerce, and digital marketing overall, including: