5 Key Facts About Mobile, Millennials, and Hotel Marketing – Travel Tuesday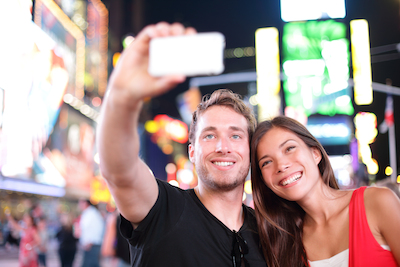 There's lots of buzz about Millennials in the media these days, but how important is this emerging generation to your hotel, really? Actually, very important. Here are 5 key facts about mobile, Millennials, and hotel marketing that explain why:
1. There Are Lots of Millennial Travelers
Millennials aren't a "future trend." They're here today. "Millennials comprise 32% of U.S. travelers and are the fastest-growing age segment in travel…" (emphasis mine), according to a Loyalty360 interview with Hotels.com's Taylor Cole.
Millennials also spend about 10% more when they travel than their Gen X elders. And, among Millennials who travel, half are married and have children. Lots of opportunity there for savvy hotel marketers.
2. Millennials Research Travel on Mobile
Actually, so do all the other demographic segments. eMarketer says 40% of all travel research happens on mobile devices and tablets, plus:
"…51% of travel content social shares by US internet users took place through a smartphone or tablet. Smartphones were particularly important for sharing, accounting for 41% of the total pie."
Millennials represent a generation that's grown up with mobile phones. A smartphone is no more a piece of technology in the hands of a Millennial than a light switch is to a Booomer; it's simply a fact of life. They never put the things down (a behavior their elders have begun to adopt, too). It only makes sense then that this powerful and emerging market segment uses their mobile phones for many aspects of travel research and planning.
3. Millennials Expect You to Have a Mobile-Friendly Website
This one's a biggie. Marketing Charts says:
"Smartphone-owning Millennials (19-33) are more likely to expect brands to have a mobile-friendly website or app (55%) than they are to expect brands to have a social media presence (39%)."
Why is this such a big deal? Well, data from Google [PDF link] says that only 23% of all travelers will fight their way through a site that isn't optimized for mobile. And 40% of those travelers say that a poor mobile experience negatively impacts their overall perception of your brand. These numbers hold true across demographic segments, by the way, so it's not just Millennials you need to worry about here.
4. Mobile Millennials Are More Loyal Than You Think
It's become fairly fashionable to claim Millennials aren't particularly brand loyal. But, in fact, 6 out of 10 millennials
"…say they would find a mobile app for a hotel's loyalty program "very" or "moderately valuable"
according to research from Software Advice (H/T: Leonardo). Equally impressive are the 46% of Millennials who will join loyalty programs out of sheer brand loyalty as opposed to just looking for rewards. So it might be fashionable to claim Millennials aren't loyal. But it isn't true.
5. Millennials Book on Mobile
Unfortunately, they may not be booking directly through your site.
Data captured on this SocialMediaToday infographic says 49% of Millennials "plan/book" their hotel accommodations on mobile devices. Clearly, "plan/book" isn't the same as plain ol' "book." But eMarketer notes that 40% of LGBT Millennials reserved hotels through their mobile device and I'd be very surprised if that's just an LGBT thing. For instance, behavior shifts significantly across other LGBT demographic categories, and looks similar to what we see with most other segments:
"When booking lodging via mobile, LGBT millennials were huge fans of online travel agencies (OTAs). Nearly two-thirds of millennials booked that way, compared with 55% of Gen Xers and 43% of boomers. The two older age groups—especially boomers—preferred to book through a hotel's mobile site."
Now, what do you want to bet that your mobile-friendly website—or lack thereof—plays a role in Millennials choosing OTA's? The OTA's have invested heavily in developing their mobile capabilities and overall mobile bookings are expected to reach almost $40 billion this year. Shouldn't you get your share?
Conclusion
The data seems clear. Millennials are here, today, as a real market force. They research, find, and book travel on mobile. Millennials expect a great experience both on mobile and in real life. And, so long as you take care of their needs, they're as loyal as any guest today.
Most importantly, Millennials—and mobile—are here to stay. And that may be the most important fact of all.
Want to learn even more about how your guests' changing behavior shapes hotel e-commerce, distribution, and marketing? Be sure an register to receive a special report I've produced in conjunction with hotel marketing firm Vizergy, "Digital Hotel Marketing in a Multiscreen World." While it's targeted specifically at hotel and resort marketers, the lessons apply to just about any business. You can get your free copy of the report here.
You might also want to take a moment to review the slides from my recent webinar, "Digital Marketing Directions 2015: Three Key Trends Driving Your Hotel Marketing Next Year" here:
Finally, you might also enjoy some of our past coverage of the social, local, mobile web and what it means for your business, including: