Don't Get Hung Up On Smartphones: Put Your Customer First
Looking to drive results for your business? Click here to learn more.
---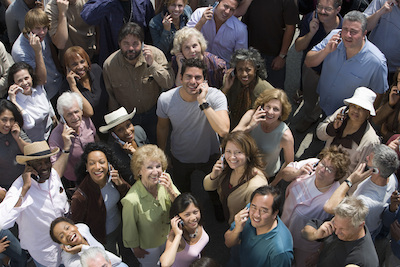 I don't want to make fun of my friends at eMarketer, but they have a real knack for burying the most important reality sometimes. eMarketer released research today that mobile and tablet together now represent over 50% of the internet-connected devices in most people's homes. And that's undoubtedly an impressive finding. It's just not the most important one.
What the data hides is that the overwhelming majority of customers own multiple devices and that they use all of them to solve their problems, switching as needed to get the best answer. Over 80% have both mobile and desktop devices. So, sure, the single most common connected device in the home is the smartphone, with greater than 37% of the study owning one. Desktops and laptops represent another 28% ownership. And almost one-fifth of customers also own connected devices like DVRs, set-top boxes, and Blu-ray players — which, to be fair, will see a lot more movement with the rapid rise of Amazon's Echo, and Google and Apple's forthcoming entries into the home AI space.
But the key fact is that most of your customers own multiple devices. And they'll use whichever one helps them accomplish their goals. That's the new normal.
This speaks to the ongoing trends that we're seeing. It's important to recognize that despite the number of people we're seeing own smartphones (or tablets or what-have-you), it's not mobile-first; it's customer first. By focusing on devices, too many companies put too much emphasis on things like their website design or their mobile app design or their social platform pages. And what that really means is that they're putting more effort into the frame then into the picture it contains.
You've heard me say many times before that "content is king, context is queen, and data is the crown jewels." Those attributes play a key role in the new digital strategy playbook that I started talking about over on our Thinks Out Loud podcast last week. That playbook tries to put the emphasis where it belongs: on the customer and on answering their questions.
So don't get hung up on smartphones. Or tablets. Or messaging. Or whatever else comes next. And let's not bury the most important fact: devices are secondary; put your customer first.
Want to learn even more? Well, if you're looking to hear about how your customers' changing behavior shapes e-commerce and marketing, be sure and register to receive a special report I've produced in conjunction with hotel marketing firm Vizergy, "Digital Hotel Marketing in a Multiscreen World." While it's targeted specifically at hotel and resort marketers, the lessons apply to just about any business. You can get your free copy of the report here.
You can also check out these slides and video from my recent webinar, "Digital Marketing Directions: Three Key Trends Driving Your Marketing Next Year":
Finally, you might enjoy some of these past posts from Thinks to help you build your e-commerce strategy and your digital success: