For Travel Marketers, Content is Still King (Travel Tuesday)
Want to drive more direct bookings to your hotel? Click here to learn more
---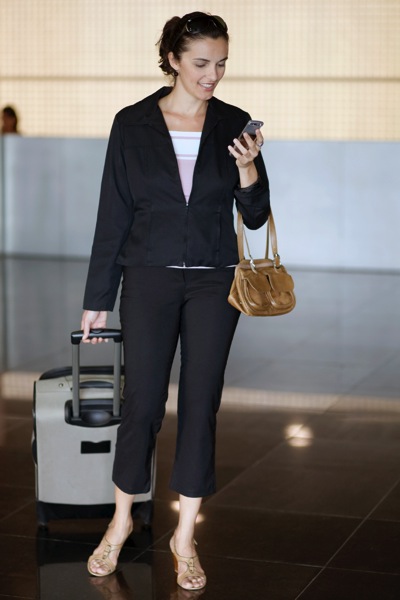 Perhaps the greatest cliché in digital remains: "Content is king." But here's the thing. It's cliché for a reason: because it's true. As I've stated many times before, we're all publishers now, using content to attract both search engines and potential guests. However, as hotel marketers, we're facing an uphill fight to cut through the increasing clutter and separate our hotels not only from others in the marketplace, but also from OTA's, TripAdvisor, and (increasingly) Google—all of whom depend on content about our hotels to succeed.
Ugh.
My Rutgers colleague Mark Schaefer refers to this emerging trend of customers drowning in an overwhelming flood of content as "content shock." And while some evidence suggests it's not as bad as all that, it's still a challenge to A.) Help guests find your content, and B.) Convince them you're the right option for their stay once they do.
The good news is these two activities work hand-in-hand. Quality content attracts search engines (and the links that often tell search engines you've got quality content), but also attracts potential guests, and, when done well, likes and shares on social to find even more potential guests. And, when you've got quality content, it helps guests better understand whether you're the right property for their stay, helping close the sale as well.
Admittedly, not the easiest task. But when creating your content, you must hit two targets:
Content quality
Content velocity
Content Quality
Content quality almost goes without saying. If you've got poor quality content, nothing else you do will work—or at least won's work for long. Hang with me for a second, though, and I'll explain exactly what quality is in this context.
Content Velocity
Content velocity refers to content that "moves," that's immediately engaging and inherently shareable. It's the content that you can't wait to put in front of your friends and family and fans and followers on Facebook, Twitter, LinkedIn, Instagram, Snapchat and all the rest of the usual suspects.
Content Marketing Framework
Some time ago, I unveiled a framework that lends itself to ensuring both content quality and content velocity as you're putting together your hotel's content marketing that looks like this: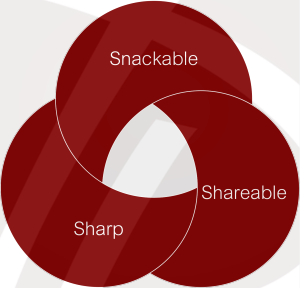 You're really looking to create content that's:
Snackable. Snackable content is easily digestible. Consumers and customers can easily see what you're talking about and easily understand it. It requires you to chunk your content into "bite-sized" pieces using lists, headings, images, and (increasingly) videos that your potential guests can review where, when, and how they choose without investing huge chunks of their time.
Shareable. Shareable content does exactly what it says: It's easy to share. This includes concepts such as making your headlines no longer than 140 characters (so they'll fit in a Tweet); including images well-suited to Facebook, Instagram, and Pinterest; and actually placing social sharing buttons on your page near the content you want your potential guests to share.
Sharp. Sharp content is content that makes its point. It focuses on one clear objective per paragraph or section, so that guests don't have to rummage around your page—or, God help you—your site to find what they're looking for.
By creating "Snackable, Shareable, Sharp" content, you'll usually end up with content that exhibits both quality and velocity.
What Kinds of Content?
Of course, none of this will help you if you don't know what kinds of content to create in the first place. And here's where it's important to remember the first rule of hospitality marketing: Sell your destination first.
What's near you or going on in town that would appeal to a broad range of travelers? Events, concerts, museums, festivals, etc. all provide ample opportunity to attract potential guests who fit your ideal profile. Think of things like:
Major attractions
Parks
Professional and semi-professional sports teams
Entertainment
Theme parks
Museums
Zoos
Universities and colleges
Theaters
Businesses (particularly major employers, but don't overlook smaller businesses that "punch above their weight" within their industry)
Convention centers
And so on…
For events, think of:
4th of July
New Year's Eve
NYC/Boston Marathon equivalents
Conventions across all segments (MICE, SMERF, etc.)
Festivals
Concerts
While many hotel marketers typically align these attractions and events with their hotel's chain scale, economy and midscale marketers shouldn't forget that even affluent travelers dropping their kids off at college sometimes just need a bed and shower at the end of the day, while luxury marketers may appeal to VIP attendees of "economy-scale" conventions or attractions.
Visual Content
By far, visuals represent some of the greatest examples of Snackable, Shareable, Sharp content in travel marketing. As my friend Robert Cole has said, "pretty pictures sell hotels." Always. As I've mentioned:
"Hotels I work with frequently see fantastic results when they update their websites to include larger, bolder, more engaging imagery. The rise of sites like Instagram and Pinterest, as well as the so-called "Retina-quality" displays on laptops, tablets, and mobile phones highlights how much emphasis your guests place on visual information—and underscores the critical role images play in helping your guests choose to book with you."
We're also finally entering the era of mobile video. According to Marketing Charts, "…the forecast calls for mobile to account for a majority 52.7% of online video consumption next year, up from 40.1% last year." While you may not want to run out and start creating a whole bunch of video, it's definitely time to start testing any video assets you have both on your own site as well as Facebook, Instagram, and YouTube to see what's working with your guests.
Conclusion
Creating the right content to attract the attention of guests on search and social depends on both quality and velocity. Use the "Snackable, Shareable, Sharp" Content Framework, to meet those needs, gain guest attention and drive social actions. Ensure you're regularly updating your photos and start thinking about testing video for your hotel. You may be fighting content shock, but it's a fight you can win. Guests love exploring and learning more about their future destinations and stay. And because of that, for travel marketers, content is still king. It might be cliché, but it's true all the same. Long live the king.
If you're looking to learn even more about how changing guest behavior shapes hospitality marketing, e-commerce, and distribution, be sure an register to receive a special report I've produced in conjunction with hotel marketing firm Vizergy, "Digital Hotel Marketing in a Multiscreen World." While it's targeted specifically at hotel and resort marketers, the lessons apply to just about any business. You can get your free copy of the report here.
You might also want to take a moment to review the slides from my recent webinar, "Digital Marketing Directions 2016: The Key Trends Driving Your Hotel Marketing Next Year" here:
Finally, you will definitely want to check out some of our past coverage of the mobile, local, social web and how to make it work for your hotel, including: