Google's Mobile Buy Button: Should You Buy In?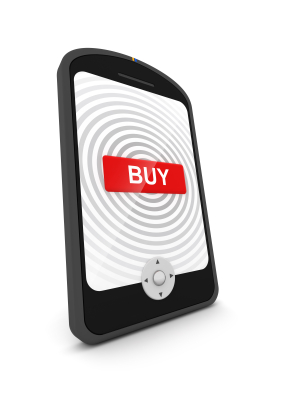 Well, this is something: Google's adding a "Buy button" to its search results. According to The Wall Street Journal" [paywall]:
"The search giant will start showing the buttons when people search for products on mobile devices, according to people familiar with the launch."
Note where Google's offering that button: On mobile searches, not on desktop. Why? Because desktop e-commerce more or less works… and mobile really doesn't. As the Journal points out, "…it can be a bigger hassle to navigate a retailer's page, and enter credit-card and shipping information, on small smartphone screens with error-prone keyboards." These challenges really underscore why mobile payments represent such a huge game-changer for mobile commerce — and why Google's efforts here represent such a huge deal. For example, the article says,
"…Google will let shoppers input payment credentials such as credit-card numbers one time, and the company will store those and automatically load them for future purchases on its shopping pages. Google won't send those payment details to the retailers, one of the people said."
Now, apparently, Google will accept a "wide range" of payment options, "…including digital payment methods from other providers." I'm curious to see how long that lasts.
Of course, the fact that Google needs to monetize its mobile traffic more effectively undoubtedly also plays a role. And, to be fair, Google is sticking with a cost-per-click (CPC) model, not a cost-per-action (CPA). As Search Engine Land notes,
"[i]n a departure from Amazon and Ebay, participating Google Shopping advertisers will not have to forego a percentage of the transaction. Instead Google will continue to charge per ad click…"
Essentially, this will work similarly to Google's Hotel Price Ads offering that travel marketers have dealt with for the last few years. Most hotel marketers would tell you that they've found the program generally successful, though worry about Google's market power (they're also dealing with slightly different market conditions, usually using both their own website and myriad other distribution channels such as Priceline, Expedia, etc. as opposed to manufacturers using only third-party distribution channels or retailers who may compete directly against Amazon or eBay, but not use those platforms to drive sales).
Regardless, this highlights a few key trends:
User experience matters. Google clearly sees opportunity here to improve user experience and conversion rates (which, let's face it, tend to move hand-in-hand) on mobile and improve overall mobile revenues for both their partners and themselves.
Mobile's a really big deal. Google isn't offering this on desktop at all despite the fact that desktop was where they started with Hotel Price Ads, strongly suggesting that mobile's really where all the action is right now.
Reaching customers will continue to get more complicated. Jeff Bezos once said, "Your margin is my opportunity." Google recognizes there's margin here to play with and is going after it. There's no way this is the last move in the game. Instead, Google's potentially introducing another toll booth on the road to purchase — and time will tell when they start collecting.
Do I think you should do this? It depends. But it's probably worth testing once they make it more widely available. Just keep paying attention to your actual cost of sale and don't be afraid to shop for better options. Just, once you find them, I hope they give you a "Buy" button, too.
If you want to learn even more about how customers changing behavior shapes e-commerce and marketing, be sure an register to receive a special report I've produced in conjunction with hotel marketing firm Vizergy, "Digital Hotel Marketing in a Multiscreen World." While it's targeted specifically at hotel and resort marketers, the lessons apply to just about any business. You can get your free copy of the report here.
You can also check out these slides and video from my recent webinar, "Digital Marketing Directions: Three Key Trends Driving Your Marketing Next Year":
And, finally, you might want to take a look at some of our past coverage of the e-commerce, mobile commerce, and digital marketing overall, including: