How Safe is Your Business from Mobile E-commerce?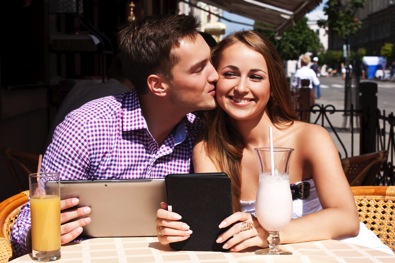 On slide 99 of Mary Meeker's latest Internet Trends report that I talked about during yesterday's podcast, Meeker poses a fascinating hypothetical question:
"More Screens = Consumers Get More Content in Less Time?"
This headline is followed by a simple graphic that shows 5 hours of TV screen media (which, according to Meeker, equals 4 hours of content + 1 hour of commercials), and wonders whether 5 hours of multiple screen media split across smartphone, TV, PC, and tablet adds up to more than 5 hours of content. Here's what it looks like (I've embedded the whole deck below if you want to see it in context):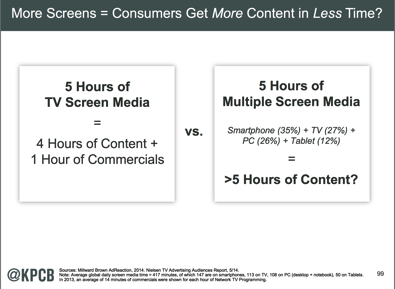 The answer to Meeker's hypothetical question is a qualified yes. While it's unlikely that your customers can really absorb more than 5 hours of content in 5 hours, they are exposed to much more content than ever before (it's unlikely anyone's paying close attention for the full 5 hours — or that they ever did — but they're immersed in content, all day, every day).
The important bit is what they're doing during that "distracted" time, when trading one screen for another.
Meeker's report also shows that 25% of smartphone owners and 44% of tablet owners shop while watching TV, with 7% and 14% of smartphone and tablet owners, respectively, buying the products/services advertised (see Slide 97 in the deck below).
And this is what I mean when I say things like "It's all e-commerce." We live in a world where your customers have the Internet, everywhere. Your customers snatch snippets of time in their busy, busy lives to browse and find and shop and buy when it's convenient for them. On whichever screen is at hand. And in whichever context they happen to find themselves in.
Helping customers browse and find and shop and buy in this changing world depends on addressing their needs, regardless of screen, context, or location.
And, pay attention to where industry giants are moving. Obviously, you should watch the AGFAM players (Apple, Google, Facebook, Amazon, and Microsoft), but don't count out traditional powers either. Walmart is making serious moves in its e-commerce efforts (and, more accurately, its omnichannel efforts), looking to use mobile to tie together the guest experience whether online or in-store. As Re/code noted in an interview with CEO Doug McMillon earlier this week,
"…the biggest retailer in the world has been integrating new ideas and technologies across businesses.

Within stores, Walmart is using mobile technology to give customers the answers to common questions: Is a product in stock? Where is it?"
These efforts have started to work. Walmart's already the fourth largest e-commerce player despite the channel accounting for only 2% of its overall sales. And when McMillon says, "We're not as aggressive on some things as we should be." it doesn't suggest the company plans to stay "not as aggressive."
Your customers can browse and find and shop and buy for the products and services they want, when they want, where they want. They can do it while watching TV, as Mary Meeker's data shows. Or they can do it while picking up their kids from school or soccer. And they can even do it while standing in your store's aisles, refreshing themselves at your restaurant's tables, or lounging in your hotel's lobby.
The question is, while they're browsing and finding and shopping and buying, will the products and services they browse and find and shop and buy be yours? Or your competitors?
Interested in learning more about digital marketing and e-commerce strategy on the social, local, mobile web? Register to receive a special report I've produced in conjunction with hotel marketing firm Vizergy, "Digital Hotel Marketing in a Multiscreen World." While it's targeted specifically at hotel and resort marketers, the lessons apply to just about any business. You can get your free copy of the report here.
You might also like these slides that list three key digital marketing trends shaping your customers' behavior right now:
And, finally, you might want to check out some of our past coverage of the social, local, mobile web and what it means for your business, including: