It's all e-commerce, Apple edition
So, I often talk about how "it's all e-commerce." (No, really, all the time).
But I get that the concept of "it's all e-commerce" may not mean much to many of you. So, I wanted to show you something that Apple's doing that's a.) cool, and b.) illustrates what I mean.
This is the new Apple Store iPhone app: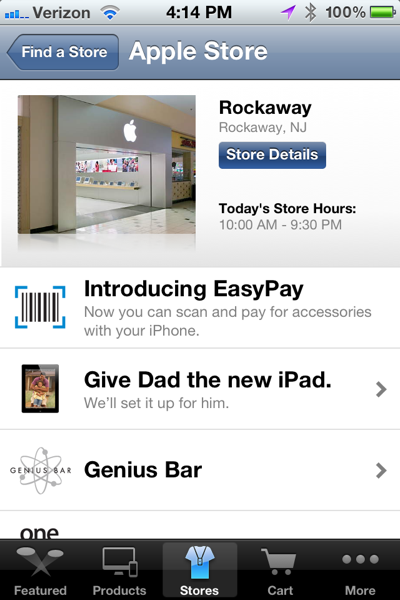 Notice, it shows me my local Apple store, along with details and directions.
But the really cool bit is that "Introducing EasyPay" button below the store details. I needed an adapter cable for my iPhone the other day and used EasyPay for the first time. Once I'd walked into the store, I found the product I needed, then connected to their wifi network. Once connected, I clicked the EasyPay button, which activated my phone's camera. I used the camera to scan the product's barcode, which then triggered a request for my Apple ID password. I entered the password and the app asked me if I wanted to charge the accessory to my account. I tapped, "Yes," causing the app to charge my account and display my receipt. I then simply left the store, after showing my receipt to the guy at the front door.
Believe me, it was far simpler to do than it is to explain in text.
Now, this level of technology isn't necessary for everyone. Yet.
But, it's clear that Apple's taken a step into the future, showing how transactions aren't really conducted by "channel." Your customers will use whatever tool is handy that helps them solve their problem.
I suspect for most retailers and physical storefronts things like RFID to work just as well as Apple's "EasyPay" going forward, without requiring all the proprietary software. But the idea is the same.
Your customers want to shop, to ask questions and to buy. And they carry the entire Internet in their pocket, every day. The more your channels work with one another, the better off your business will be. Notice that Apple didn't call the app "EasyGet" or "EasyTakeHome." They called it EasyPay. Who do you really think wins in this scenario?
---
Are you getting enough value out of your small business website? Want to make sure your business makes the most of the local, mobile, social web? thinks helps you understand how to grow your business via the web, every day. Get more than just news. Get understanding. Add thinks to your feed reader today.
And while you're at it, don't forget to follow Tim on Twitter.
Tim Peter & Associates helps companies from startups to the Fortune 500 use the web to reach more customers, more effectively every day. Take a look and see how we can help you.
Technorati Tags: Apple, E-commerce, e-commerce, e-commerce satisfaction, E-commerce strategy, ecommerce, strategy