5 amazing mobile strategy tips from HEDNA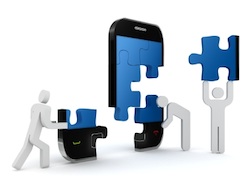 I was privileged to speak last week in Spain at HEDNA — a gathering of marketing and distribution folks in the hospitality industry. I was surrounded by an amazing group of people living every day in the trenches of a highly competitive industry and working really hard at getting their products in front of an increasingly fragmented customer base.
While I did my best to share what I've learned over the last few years about the local, mobile, social web, I learned lots too from the other speakers and the attendees. And while these conversations were geared towards the hotel industry, the basic premises apply to many industries. I'm going to recap some "lessons learned" over the next few days. For today, here are the themes I took away regarding mobile marketing:
Mobile is everywhere. The fine folks at Sabre Hospitality Solutions noted that 60% of the world's population owns a smartphone and asked, "Are you ready?" Or, as I like to say, customers don't "go online." They are online, carrying the entire Internet in their pocket all the time.
Mobile search is about to leave the desktop behind. Because of the growth of smartphones, mobile search queries will overtake desktop queries in 12-18 months.
Mobile is all about instant gratification. Hang with me on this one for a second, because these numbers get a little complicated. 20% of hotel bookings on mobile are for the same day, meaning 20% of customers booking a stay on their mobile phones are doing so for tonight. Flipping that around, apparently, 82% of hotels booked within a day of arrival are booked on mobile vs. 45% on desktop. I didn't get a chance to follow up directly with the speaker to reconcile those numbers. But the implication is pretty clear. Folks are using their mobiles at the point of purchase instead of just "buying in the store" (or waiting to get to the hotel's front desk).
Apps aren't for everyone. Apps typically fit only very large hotel chains (think "large brands" if you're not in the hotel industry). The key takeaway: Have a browser-friendly mobile site. One of the attendees tweeted a link to this infographic comparing apps vs. mobile sites or you can review our past coverage of the apps vs. websites question here and here and here (and, yes, I did reuse today's image from that last post — nothing like being economical).
Mobile is a situation, not a device. Your customer uses mobile to solve a need. So, when you think of mobile, think "person-centric computing" rather than "device-centric."
It was a great conference, filled with lots of learning, so many that one post doesn't cover them all. For instance, you can also check out my content marketing takeaways from the conference. And, if you're interested, I'm available to speak at your conference, too.
---
Are you getting enough value out of your small business website? Want to make sure your business makes the most of the local, mobile, social web? thinks helps you understand how to grow your business via the web, every day. Get more than just news. Get understanding. Add thinks to your feed reader today.
And while you're at it, don't forget to follow Tim on Twitter.
Tim Peter & Associates helps companies from startups to the Fortune 500 use the web to reach more customers, more effectively every day. Take a look and see how we can help you.
Technorati Tags: E-commerce, e-commerce, E-commerce strategy, ecommerce, m-commerce, marketing, marketing best practices, mobile, strategy, success