Mobile E-commerce Now Bigger Than Desktop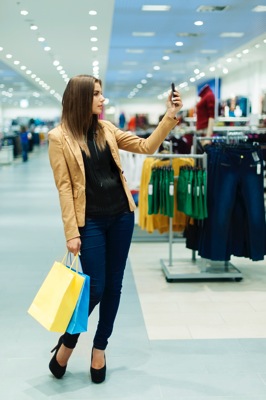 Huge news from Mobile Commerce Daily:
"In 2010, 96 percent of online retail browsing was done on desktops while only 4 percent took place via mobile devices. Today, those numbers have collided and continue to move in opposite directions, with 51 percent of retail visits occurring via mobile."
As the article also notes:
"Since consumers are more likely than ever to make a purchase via mobile devices, retailers and brands prepping for the 2014 holiday season are likely to route their strategies accordingly. As the anticipated launch of iOS 8 is right around the corner, retailers should expect a prevalent use in this department as virtual gift giving continues to replace its physical counterpart."
As you may have heard before:
"The simple reality is that customers use mobile regularly during their discovery, browsing, and shopping experience (less so for buying, though that may be more an attribution problem than an actual conversion problem). The question is whether they're finding you during that same process."
Plus, that attribution vs. performance problem likely is also going away. I talked a fair bit yesterday about how ApplePay, launched earlier this week, is going to be a game changer for mobile commerce. The integration between ApplePay and checkout within apps is fundamentally going to reshape our notion that "no one buys on mobile." And I'd be stunned if Google doesn't counter with updates to Google Wallet at its earliest opportunity, so this isn't just some "Apple fanboy" moment suggesting only one player's going to get in this game.
The simple fact remains that, for today's constantly-connected, media-immersed consumers, it really is all e-commerce. And the question remains, what are you doing to help them?
Just as a quick reminder, you might want to check out a webinar called Digital Marketing Directions: Key Trends Driving Your Marketing Next Year that I'm presenting on Tuesday, September 16, 2014. You can read all the details here.
You may also enjoy this look at growing your email list and its importance as an e-commerce best practice as well as reviewing the slides from a talk I gave all about email marketing in an age of mobile:
And, if you're interested in learning even more about how customers changing behavior shapes e-commerce and marketing, register to receive a special report I've produced in conjunction with hotel marketing firm Vizergy, "Digital Hotel Marketing in a Multiscreen World." While it's targeted specifically at hotel and resort marketers, the lessons apply to just about any business. You can get your free copy of the report here.
Finally, you might also enjoy some of our past coverage of the mobile, local, social web and how to make it work for your business, including: