What Expedia's Leaders Can Teach You About Digital Strategy – (Travel Tuesday)
Want to drive more direct bookings to your hotel? Click here to learn more
---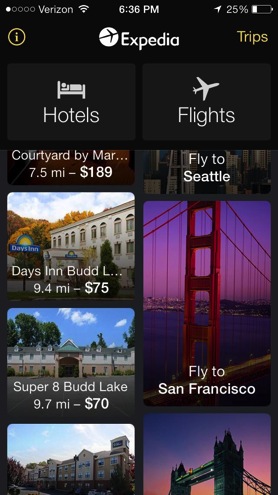 Web in Travel has a fascinating interview with Expedia's senior vice president of worldwide engineering, Aman Bhutani, and John Kim, the company's chief product officer. The two discussed Expedia's $500 million (!), annual investment in technology R+D. The article notes, "…[Expedia] intends to keep up that level of investment to make sure it lives up to its mission of reinventing travel through technology." Given that commitment, it seems worthwhile to pay attention to what they have to say.
Interestingly, Bhutani and Kim highlighted the company's efforts to capitalize on a number of major trends I've been tracking for a while. Here's what these two leaders had to say on each.
Own the data, own the customer + Internet, Everywhere
This one's a long time coming, and it's becoming an increasingly big deal. For instance:
"Bhutani and Kim admit that even the biggest companies in the world are struggling in the new world where the web has become a set of data products, not interfaces."
Here's how Expedia plans to put it to use:
"Technology's finally ready to take large data sets and aggregate them in sub seconds – every click connects you to large data sets.

'It remembers everything you're doing and plays it back to you – gets a sense of your history so it's easier for you to find the thing you're looking for – easier to share, easier to compare, easier to take notes.'
Why's data so important? Because your customer surrounds themselves with it, every day.
"In the US, it takes people 48 searches before they book, we thought it would take weeks before people buy but what we found is people use it intensely and then book within a day. So they spend snatches of time but get one experience across devices – this allows them to make faster decisions."
They continue:
'What we are doing is aggregating information and converting that to knowledge.'

'There's so much at stake, so many trends. You can make the wrong moves. Everything is being disruptive, everything is designed to make consumers' life easier but harder for companies…'

For Kim, the company he admires is Dropbox. 'How unsexy is storage but they've nailed it for millions of people. I use Dropbox throughout my entire life, it reminds me, puts my friends on it, rewards me and scientifically measures every response."
Of course, data's importance came around because your guests now have the Internet, everywhere. And it's a use OTA's have seized upon:
Mobile has also given OTAs the opportunity to shift last-minute business online. 'In the past, almost all last minute was walk in and most of that business was offline. Now with mobile devices, you can shift that online.'

Said Bhutani, 'We talked mobile for 20 years and it happened gradually, gradually and then suddenly. This happens with all technology usually – you know it's coming and then boom – the generation that can design it builds it and expects it.'
I've been talking up mobile for a while (most recently, last week). It seems pretty obvious that Expedia thinks it's a really big deal too.
Reviews: The Single Most Effective Way to Improve Your Brand's Digital Marketing
Another result of the Internet, everywhere, is your guests' reliance upon reviews during their research, booking, and post-stay experience. I've stated that improving your reviews is the single most effective way to improve your brand's digital marketing, and Expedia seems to think the same.
For instance:
Another area [Expedia] is experimenting with is real-time reviews. 'On flights, when you land, we send you questions and we are getting answers and we think we are onto something. Real-time interaction and feedback — everyone wants to do it now, the delay loop kills it, we now have to figure out a way to give that to suppliers.'
Clearly, the company expects guests to write reviews from their tablets and mobile phones while sitting on the plane, on-property, and on-the-go.
You really owe it to yourself to read the whole interview.
And, if you're interested in learning even more about the future of e-commerce and marketing via the social, local, mobile web? Register to receive a special report I've produced in conjunction with hotel marketing firm Vizergy, "Digital Hotel Marketing in a Multiscreen World." While it's targeted specifically at hotel and resort marketers, the lessons apply to just about any business. You can get your free copy of the report here.
And, if you're curious about other trends shaping travel marketing, take a look at my recent presentation, called, aptly enough, "Digital Marketing Directions – Exploit the Trends that Shape Travel Marketing":
Finally, you might also enjoy some of our past coverage of the social, local, mobile web and what it means for your business, including: