When does online marketing become online sales?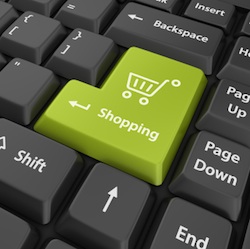 Marketing has traditionally viewed the world through the filter of AIDA:
The customer must gain AWARENESS of you
The customer must express INTEREST in you
The customer must begin to DESIRE you
The customer has to take ACTION
And while it's an attractive model, it's not really true anymore (if it ever truly was).
Consumers today work their way through all four steps of the AIDA process at the same time, gaining awareness of products and services that meet their needs at the same as they gain interest, build desire and take actions on others.
For instance, let's look at a vacation traveler, getting ready for her big summer trip. She might be conducting searches on Google for "family vacation resorts" (very early in the Awareness phase), while reading specific resort reviews on TripAdvisor (Interest), checking prices on various websites (Desire) and getting discounted offer emails from both the online travel agency where she booked and the fantastic resort where she stayed with her family last year (Action).
That's why all online marketing has to include appropriate calls-to-action and has to be part of the overall selling process. There's no logical progression from one step to the next any longer (if there ever truly was). Your customers distinguish between sales and marketing only if there's a "Buy Now" button. Otherwise, it's just another link in the chain of their decision-making process.
That's not to say that the "Buy Now" button is the only logical call-to-action. Your customer likely needs a little time to get to know you before they're ready to take you home (and, obviously, the size and emotional resonance of the purchase matter lots when it comes to exactly how much time they'll need; buying a house falls way further along the continuum of emotional purchases than, say, buying a paperback book). Your job is to offer the appropriate calls-to-action that move your customer along the purchase path. And to make the steps along that path as painless as possible.
While marketing and sales have some distinct differences, online they're not as far removed as you might think. In fact, they're not much more than a click away. AIDA may be a handy model for marketers to think about. Just be sure and remember that the action at the end is what you're trying to get to as fast as possible.
---
Are you getting enough value out of your small business website? Want to make sure your business makes the most of the local, mobile, social web? thinks helps you understand how to grow your business via the web, every day. Get more than just news. Get understanding. Add thinks to your feed reader today.
And while you're at it, don't forget to follow Tim on Twitter.
Tim Peter & Associates helps companies from startups to the Fortune 500 use the web to reach more customers, more effectively every day. Take a look and see how we can help you.
Technorati Tags: marketing, marketing best practices, solutions, strategy, success