Why You're Slowing the Growth of Mobile Commerce
I've talked repeatedly about how big mobile commerce stands to be. I've also taken a look in the past at e-commerce errors hurting your sales. Today, I thought I'd highlight where those two things come together.
I was trying to book a hotel on my mobile phone the other day, when I found myself facing the following screen: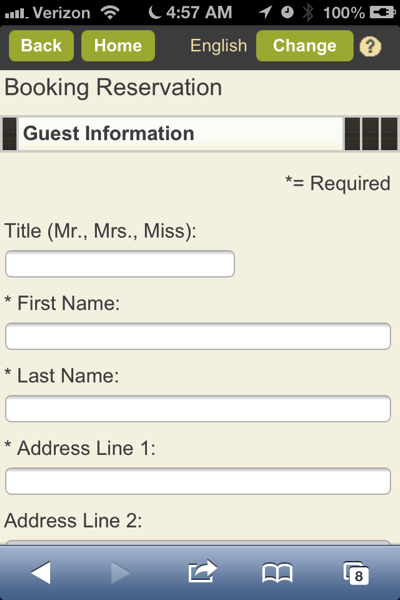 Scrolling further down the page, I got more questions.
Oh, but we're not done yet. Nope. There's another screen still…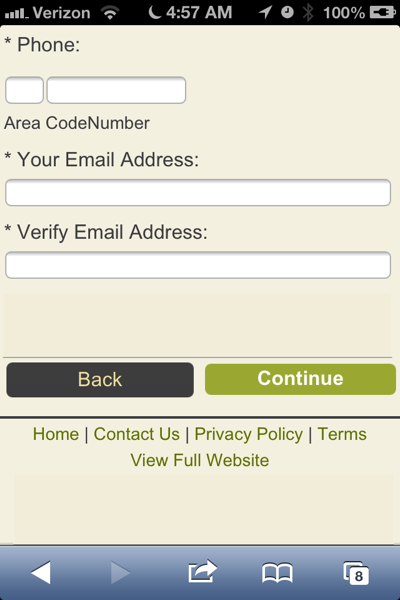 Remember, the folks who built this site expects their customers to type all this information on a mobile device, potentially when standing on a street corner or in an airport or on a subway.
Um… no.
Mobile commerce has the opportunity to be huge. But it will only get there if you make it easy for your customers to buy what you're selling.
According to Pew Research, 55% of cell phone owners use their phone to access the Internet and 17% use only their phone to go online. Channels are collapsing. Consumers will use whatever channel works for their needs to accomplish their goals. But, again, only if you make it easy for your customers to do that.
Mobile will continue to grow rapidly over the next few years. That's inevitable. But the companies who help their customers accomplish their goals will realize the benefits of that growth more quickly. Why not be that company?
Interested in more? Sign up for our free newsletter and get more information on how to build your social, local, mobile marketing strategy. And, if you've got a minute, you might enjoy some past coverage of mobile, including: