3 Reasons Mobile Travel is on the Rise (Travel Tuesday)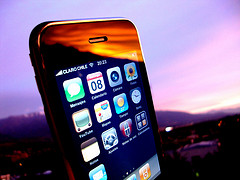 Mobile travel continues to grow. For instance, eMarketer reports:
"…that 40% of digital travel researchers will plan trips via tablets and smartphones in 2013, and that more than one-quarter of digital travel bookers will buy on their mobile devices."
Those numbers are slightly lower, but relatively in line with data I've seen before about travel and mobile. The point remains, mobile continues to grow in its importance with travel shoppers. And the reasons, as I've noted, remain pretty constant:
Mobile's close at hand. It's increasingly rare that someone isn't holding a mobile device. Just look at all the folks "praying" to their handheld device next time you're waiting at the gate at an airport or strolling through the mall. Makes it pretty easy to get at information, no?
Growth of Millennial travelers. Millennials made their debut roughly around 1983. As it happens, so did mobile phones (true). This generation, half of whom are now over 21, have never lived in a world without mobile. They're also a much larger demographic than Gen X and only a marginally smaller group than Boomers. Oh, and they're starting to travel. I'll let you do the math on that one.
The improving economy. Of course, we're being helped a bit by the fact that the economy is beginning to get better. And consumers want to travel again. Thank God. Of course, add in younger folks, more mobile devices, and voil. Booming mobile business. Thank God. And, yes, I did say that twice.
Of course, you only benefit from this growth if your site is mobile-friendly. So, um, you might want to do something about that.
Because regardless of the reasons, these numbers stand to grow significantly in the coming months and years.
Interested in learning more about travel marketing and where it's going—as well as lessons that apply to a host of other industries? Register to receive a special report I've produced in conjunction with hotel marketing firm Vizergy, "Digital Hotel Marketing in a Multiscreen World." You can get your free copy of the report here.
Finally, you might also enjoy some of our past coverage of these changes in the marketplace, including: