What Do the AGFAM's Earnings Tell You About the State of Digital in Q2? (Thinks Out Loud Episode 348)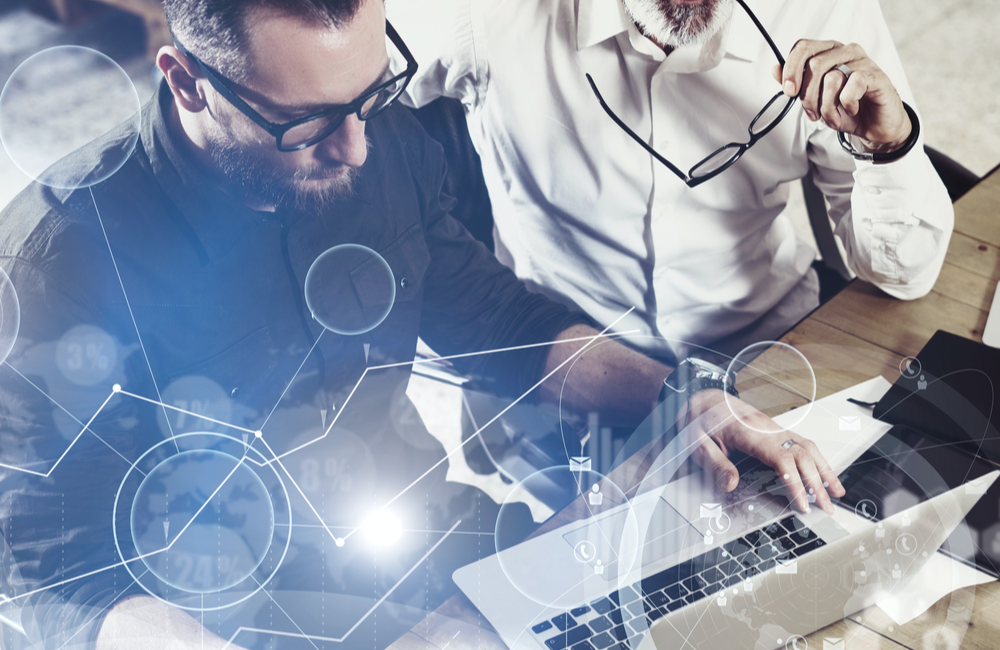 Podcast: Play in new window | Download
Subscribe: RSS
Thinks Out Loud Episode 348: "What Do the AGFAM's Earnings Tell You About the State of Digital in Q2?" Headlines and Show Notes
Show Notes and Links
Here are this week's show notes for Thinks Out Loud with links and news related to this week's episode. Be sure to check out all the links that matter for your business once you've given the episode a listen.
Free Downloads
We have some free downloads for you to help you navigate the current situation, which you can find right here:
Thinks Out Loud is sponsored by SoloSegment: SoloSegment increases large-enterprise, B2B website conversion with easy-to-install software that automatically connects website visitors to the content they need to see to achieve their goals. SoloSegment does this using anonymous data and machine learning ensuring privacy compliance, addressing the many anonymous visitors, and improving the efficiency of marketing teams. Visit SoloSegment.com.
Subscribe to Thinks Out Loud
Contact information for the podcast: podcast@timpeter.com
Past Insights from Tim Peter Thinks
You might also want to check out these slides I had the pleasure of presenting recently about the key trends shaping marketing in the next year. Here are the slides for your reference:
Technical Details for Thinks Out Loud
Recorded using a Heil PR-40 Dynamic Studio Recording Mic
and a Focusrite Scarlett 4i4 (3rd Gen) USB Audio Interface
into Logic Pro X
for the Mac.
Running time: 23m 40s
You can subscribe to Thinks Out Loud in iTunes, the Google Play Store, via our dedicated podcast RSS feed (or sign up for our free newsletter). You can also download/listen to the podcast here on Thinks using the player at the top of this page.
Transcript: What Do the AGFAM's Earnings Tell You About the State of Digital in Q2?
Well, hello again, everyone and welcome back to Thinks Out Loud, your source for all the digital expertise your business needs. My name is Tim Peter. This is Episode 348 of the Big Show and I think we've got a really cool show for you today. I think we've got some great stuff to talk about.
Listening In On the AGFAM's Earnings Calls for Q2 2022
As I like to do pretty much at the beginning of every quarter or excuse me, pretty much every quarter is talk about the earnings reports from the Frightful Five from the AGFAM: Apple, Google, Facebook, Amazon, and Microsoft.
This Isn't Financial Advice. Seriously.
And I want to be very clear. None of what I'm talking about today is intended as stock advice. In no way should you go out and make investment decisions based on anything I'm about to tell you. For the most part, I think these are all great companies. I also can't guarantee that they will get bigger in the long-term or in the near-term rather or if they'll fall off a cliff in the near-term.
Candidly, I wouldn't be surprised to see one or more of them fail in the next five to 10 years. In all seriousness as much as these companies drive us nuts, they're not invincible. The average tenure on the S&P 500 is roughly 21 years down from over 30 years, just a few decades ago. If you think about IBM, they were huge, but they've struggled in the last handful of years. And don't get me started on Yahoo. I mean, Yahoo just breaks my heart in terms of where they are today.
So the success of the AGFAM or anyone else is never inevitable. Also, I cannot emphasize enough that we shouldn't confuse the performance of the stock of these companies as reflective of whether their businesses are doing the right things or not. And we'll talk about that in a couple of individual cases in a moment.
What Do the AGFAM's Earnings Tell Us About the State of Digital?
Instead, what I try to do when I look at their earnings and especially their earnings call is listen to what they're telling us about the state of digital. Not about the state of the stock price, but about the state of customers and the state of how digital is affecting our lives.
So how is the state of digital?
The State of Digital is Outstanding
Well, it's amazing, frankly. And I'm going to talk about each company individually, but when I sum up, I think you're going to be impressed by where we are.
Microsoft's Satya Nadella: "Digital technology will be the key input that powers the world's economic output."
I'm going to start with Microsoft and I'm going to start with Microsoft for a couple of reasons. You know, they had a great quarter, their revenue was up 18% there now about a $49 billion quarter. Their cloud quarter was up 35% after you account for foreign exchange so the growth in sales of their cloud services.
And as he often does, Satya Nadella had the quote of the season. Satya Nadella famously said at the beginning of the pandemic, "We've seen two years of digital transformation in two months." He talks about the next decade will be built on digital. And what he said this time was equally impactful. He said, "Going forward, digital technology will be the key input that powers the world's economic output." I want to say that again because it's really important. "Going forward, digital technology will be the key input that powers the world's economic output."
I think he is exactly right. And I think what we heard from all of the AGFAM this quarter, all of them underscores exactly that point.
Businesses Aren't Cutting Digital Transformation Investments
You know, he talked about the recent challenges the economy is facing and this is another quote. He said, "The interesting thing I find from perhaps even past challenges, whether macro or micro is I don't hear of businesses looking to their IT budgets or digital transformation projects as the place for cuts."
We all know when businesses get concerned about where they are, they look to cut costs. And he's saying nobody's talking about doing that on IT or digital transformation. In fact, he went on to say, "If anything, some of these projects are going to accelerate their transformation." That's huge. That's huge. Even in down times, a number of companies are really starting to understand how powerful digital is to their future as an organization.
Tech Spend Will Double as a Share of GDP Within 7-8 Years
And he noted that, "As a percentage of GDP, tech spend is on a secular basis by the end of the decade going to double." That's amazing and it's something we saw again and again and again in the other earnings.
Apple: Shifting Customers to Services
Apple, tremendous quarter, almost $100 billion in revenue and they had 9% growth. Now, 9% growth doesn't sound like a big number, but it is when you're $100 billion per quarter company. Their services division alone is almost a $20 billion company. As their CFO said, it has essentially doubled in just four years. That's insane.
I started the episode by saying I don't want you to take this as stock advice. And one of the reasons I don't get hung up on the stock performance is illustrated by an unintentionally hilarious CNBC article around their earnings, around Apple's earnings. It said that "Apple's services business historically beats Wall Street estimates by three to 8% and this time it only." And I'm very much putting quotes around only. "It only beat estimates by about a half a percent."
Aw… shucks. I'm sorry that analysts were only wrong by a half a percent instead of 3 to 8% they're usually wrong. As I just said a second ago, their services division grew 17%! The fact that Wall Street did a better job estimating that Apple would perform at that level should reflect more on what the analysts did than what Apple did. Like we need to think about this the right way. A $20 billion business that's growing on an annualized basis of 17%. That's a huge number. I can't imagine anyone who wouldn't want that number.
So don't pay attention to their stock price, pay attention to the reality of their business. Their services business is also the second largest share of Apple's business after iPhones, which let's be fair, are fully half of the company's revenue. You know, they're really an 80% hardware, 20% software and services business, but that's big. That's a really, really big deal.
Digital Transformation Is Driven By Customers
And the last point I want to talk about Apple here for a second is that Apple said the vast majority of what they do in services is to what they called final consumers, not businesses. That's really critical to understanding what's driving digital transformation. Apple's services division grew for a reason. It's not just driven by companies wanting to get quote "more digital" or "more efficient." It's that customers expect to be able to interact via the internet, via type, via touch, via voice, customers are driving the shift. You can either help them or you can be in a much worse position.
Google: 41% Increase in Cloud Services
Let's look at Google real quick. Google, their revenue growth was 26% accounting for constant currency. The thing that I find fascinating about Google is that they made 58% more revenue in the quarter than Elon Musk is offering to pay for Twitter, all of it. Search alone was nearly 40 billion. That's roughly 90% of what Musk bid for Twitter. So Google's doing fine. They also saw 41% growth in cloud revenue, the biggest of any of the folks we've talked about so far. I keep bringing up cloud revenue for a reason I'm going to come back to before we finish up here.
Amazon: 37% Increase in Cloud Services… Sensing a Theme Here?
Amazon also had 9% growth. Their net sales were shade over $116 billion. One of the things that I found crazy, by the way, is Amazon did $116 billion in sales. 10 years ago, that was the average, that was the annual revenue numbers of some of the biggest companies on the Fortune 500. In 2012, $116 billion in revenue was bigger than Bank of America, Verizon, JPMorgan Chase made in a year. That would've put them number 13 on the list of the Fortune 500.
Like Apple, like Google, like Microsoft, Amazon also had a huge quarter for its services side in generated 18.3 billion in revenue. That's 37% growth. That's really, really huge. What's really interesting about Amazon is that they noted they're starting to scale back on hiring. They've noted that they've had tremendous growth over the last couple years, but now they're starting to ease up because they recognize that they don't need to invest as aggressively as they were investing two years ago.
Meta/Facebook: Effectively Becoming Two Companies
And finally I want to talk about Facebook. Facebook did about $28 billion in quarterly sales, up 10% on a constant currency basis. What's interesting about Facebook is that Mark Zuckerberg has effectively broken Meta, the parent company of Facebook into two groups that he calls Family of Apps and Reality Labs. Now you can think of these as the present of the company, the current state of the company, Family of Apps and the future of the company, Reality Labs.
He talked about how they're going to cut costs and become more efficient and effective in Family of Apps, but they want to make sure it does well enough to fund the Reality Labs efforts until it becomes profitable. Now, this gets complicated. Mark Zuckerberg said he sees, "A return to better revenue growth over time and sustain higher operating margins over time in Family of Apps." Right now, they've been spending more than they want and not enough return out of it, but they also need to make sure that it can fund Reality Labs until it can become profitable on its own right.
Reality Labs (AI/VR/the "metaverse") Is Facebook's Future
And the reason why is that Reality Labs is the future of Meta or Facebook or whatever you want to call them. You've heard me say many times the gatekeeper's going to gate. Even Facebook suffers from this. It doesn't matter how big you are. If somebody else owns the gate, you have to be worried the gatekeepers are going to gate. Facebook depends on Apple and Google for people downloading their Family of Apps for people getting access to their services, and for the data that they get back from people using those apps.
Facebook Can't Entirely Rely on Advertising Any Longer… and Neither Should You
When Apple introduced app tracking transparency, it hurt Facebook's earnings. The company referred to it multiple times in this earnings call as a $10 billion impact. I don't care who you are, $10 billion is a lot of money. They also talked about the EU's Digital Markets Act or DMA and how as Sheryl Sandberg said, "We expect DMA to have significant challenges for our industry." In other words, governments can be gatekeepers too. And as I said, a moment ago, gatekeepers going to gate. That's kind of what they do.
Sandberg: "Evolving Our Ad System to Do More With Less Data"
Sheryl Sandberg said during the earnings call that they're, "Evolving our ad system to do more with less data." They recognize that without data they cannot make successful ad products. And if they're not going to get the data, then they need to come up with ways of investing in AI and the like, which they talked about a ton to make their ad products as effective as they were when they did have data.
Facebook Needs to Win the Metaverse
More critically, it's why they're investing in Reality Labs so heavily. As you well know, Facebook has renamed itself Meta, has created a new parent company called Meta and its focus is on what they call the metaverse. Think VR, think the Oculus headset or Horizon, which is one of their metaverse worlds that they've built. Facebook needs the metaverse to take shape and needs Reality Labs to win the metaverse or at least a substantial chunk of it if they're going to continue to grow the way they used to.
Facebook is Learning That "Gatekeepers Gonna Gate"
Reality Labs is Facebook or Meta's push to own the platform and the App Store via a headset and via a virtual reality world. Because if they don't control that, then they're always at the mercy of gatekeepers. So that's really what they understand. They understand they don't own the phone. They don't own the tablet. They don't own the desktop, but they could own VR. They could own a metaverse world. And if they own that, then they control their own destiny.
So they might not win. The metaverse might not take off, but this is existential for them. They cannot rely on gatekeepers any longer and hope to succeed. I talked at the beginning of the year about why the metaverse is not a trend you've got to worry about too much right now, but you can bet it's a trend that Facebook cares about a lot.
So, What is the State of Digital?
All right, so I opened the episode by saying the state of digital is really, really good. Let's talk about why that is.
Growth is Slowing Down a Bit, But Has Soared 57% Since 2020
Now that we've heard how everybody did individual, let's take a step back and talk about what this means. First we want to be clear that the growth we saw in 2020 and 2021 has returned to historical averages. We may have lived through two years of digital transformation in two months back in May of 2020 or even May of 2021. But we're back to the regular pace of growth for digital transformation, which is still pretty fast. If you look at the growth numbers each of the AGFAM reported, they're growing spectacular well, especially for companies of their size. It's just not the hyper-growth we were seeing 18 to 24 months ago.
At the same time, growth since 2020 has been extraordinary. If you look at these companies on a two-year basis, Microsoft is up 37%. Amazon is up 54%. These are revenues. Facebook is up 60%. Google is up 65%. Apple is up 67%. That's an average of 57% revenue growth in two years. I'm pretty sure we'd all be very happy with that for our business. Whatever business you're in, that's not a terrible number.
The AGFAM Is Not Destined to Win
Yet, despite their successes, they can be beaten. Note that these are all largely one product companies. I'm not the first person to point this out, but Apple is an iPhone and a computer company that happens to own a nice sized services business. Amazon is a retailer.
Remember cloud was only and I use only advisedly here, $18 billion out of a $116 billion quarter. Facebook and Google sells ads. Facebook really, really, really sells ads. Note the challenges they've been having. Even Microsoft basically only makes operating systems either for individual computers or the cloud. That's a big deal. None of these companies are destined to win. Facebook's shift to the metaverse, for instance, is a sign that they are not winning right now. Despite their cultural currency, thereby far the smallest of these big guys.
Amazon, Apple, and Google captured roughly 80% of the total quarterly revenues of the Frightful Five and Facebook had a bit less than 8%. Again, this isn't stock advice. Facebook could absolutely change that trajectory. Everything Mark Zuckerberg talked about in their earnings calls was about how they planned to do just that. It also does mean that when you're a one product company, you are vulnerable. When other gatekeepers can gate you, you are vulnerable.
The Rest of the Market Is Shifting to Digital in a Big Way
What's really fascinating to me and the reason I went on about the services business growth for all of these is it suggests that other companies are now getting on board in a big way. They recognize that they have to undergo their digital transformation if they're going to compete in a modern marketplace. And what it means for you, of course, is that you can't wait any longer. If you've been on the fence or if you haven't been leaning into digital as much as you think you should, sitting on the sidelines is not a winning strategy.
If You're a Fast Follower, It's Time to Follow… and Fast
I used to work for a company where we followed what was called a fast follower strategy, where we would wait and see what people were doing and then we would jump on it real quick. You can absolutely be successful doing that, but the fast follower strategy assumes that you'll follow and that you will do so fast. Slow follower is not a winning strategy, right? You got to get on board and it's time to get on board in a real way. This is your time.
Remember what Satya Nadella said, what I opened with. "Going forward, digital technology will be the key input that powers the world's economic output."So the state of digital is really great, but the most important thing to recognize is that it will power your company's economic output. And that only happens if he gets started today.
Show Outro
Now looking at the clock on the wall, we are out of time for this week. As ever, I want to remind you that you can find the show notes for today's episode, as well as an archive of all past episodes by going to timpeter.com/podcast. Again, that's timpeter.com/podcast. Just look for Episode 348.
Subscribe to Thinks Out Loud
Don't forget that you can click on the subscribe link in any of the episodes you find to have Thinks Out Loud delivered to your favorite podcatcher every single week. You can also find Thinks Out Loud on Google Podcasts, Apple Podcasts, Stitcher Radio, Spotify, Overcast, anywhere find podcasts are found.
Leave a Review for Thinks Out Loud
While you're there, I would very much appreciate it. If you could provide a positive rating or review for the show. If you like what you hear, if you enjoy Thinks Out Loud, it would mean so much to me. It helps other listeners find the podcast. It helps them understand what Thinks Out Loud is all about. It helps get the word out. It helps build the community and it means just so, so much to me. I would appreciate it very, very much.
Thinks Out Loud on Social Media
You can also find Thinks Out Loud on Facebook by going to facebook.com/timpeterassociates. You can find us on LinkedIn by going to linkedin.com/timpeterassociates. You can find me on Twitter using the Twitter handle @tcpeter. And of course, you can send an email to podcast@timpeter.com. Again, that's podcast@timpeter.com.
Sponsor Message: SoloSegment
I'd like to take a quick moment to thank our sponsor. Thinks Out Loud is brought to you by SoloSegment. SoloSegment provides search as a service to help customers of large enterprises find the content that they need. SoloSegment powers your search results and focuses on business results to help your customers find the content that matters to them and directs them towards business results for you.
SoloSegment does this using artificial intelligence, machine learning, natural language processing and a host of other really cool tech, while also protecting customer privacy and driving business results for you. You can learn more about SoloSegment and all the wonderful work that they do by going to solosegment.com. Again, that's solosegment.com.
Show Outro
Finally, and I know I say this just about every week, but I so appreciate you taking time out of your very, very valuable day, out of your very valuable week, out of your very valuable life to listen to the show. It means so much to me and more than I could possibly say. So with that said, I hope you have a great rest of the week. I hope you have a wonderful weekend and I'll look forward to speaking with you here on Thinks Out Loud next time. Until then please, be well, be safe and as always, take care, everybody.