What Business Is Airbnb In? Hotels? Or Hospitality?
Want to drive more direct bookings to your hotel? Click here to learn more
---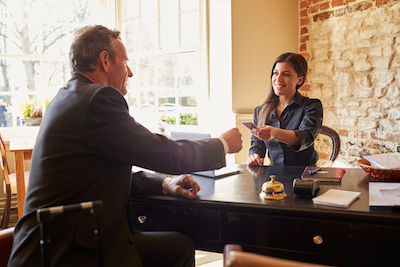 Joe Gebbia, co-founder and chief product officer of Airbnb, claims they're not in the hotel business. Instead, the company sells "trust," mostly in the form of customer experience. Here's co-founder and chief product officer Joe Gebbia in Skift:
"We didn't come up with anything new: Hospitality has been around forever, and there were many websites like ours. Why did ours eventually take off? Luck and timing aside, what I've learned is we can understand the components of trust and design for that. Trust is still, and will always be, the foundation of our company, and one of my main objectives has been to find new ways to understand and innovate all aspects of trust in our service, our company and our community."
Now, undermining that argument, they've built a hotel in Yoshino, Japan. While Airbnb insists the property isn't a hotel, Business Insider nails it:
"It's a commercial property, staffed by locals, and tourists visiting the area pay to rent rooms. A hotel is exactly what it is."
Gebbia tries to brush this away, telling Skift, "The Yoshino Cedar House is owned by the town of Yoshino, just as all Airbnb listings are owned by the hosts."
Um… okay. Marriott doesn't own the property I'm sitting in either. That doesn't mean it's not a hotel. I worked for Wyndham Hotel Group and The Leading Hotels of the World for over a decade. Neither owned a single property. They each were — and remain — "hotel companies" (I believe Wyndham now owns two properties; when compared with their roughly 7,700 franchised hotels, that really won't undermine my point).
But here's the thing. Gebbia's telling the truth.
We're seeing lots of change in the industry, largely driven by technology — or more appropriately, by consumer adoption of technology. You're feeling the effects of that change every day, whether in operations, marketing, distribution, revenue management, what-have-you. Those changes will continue to shape the hospitality industry for years. Change happens. Get over it.
What hasn't changed is what your guest needs. Now, I don't mean "what guests need" in terms of amenities or destinations. Like any fashion, those change all the time. But guests will always require:
Hospitality
Service
Experience
Trust
Where's Airbnb placing its focus? Hospitality. Service. Experience. Trust. As Gebbia said, "We didn't come up with anything new: Hospitality has been around forever…"
The problem we often have in this industry comes down to verbiage. Airbnb may not be a hotel company, but they're certainly a hospitality company.
So the question is, which business are you in? The "hotel" business? Or the "hospitality" business? Getting the answer to that question matters. Because as Airbnb keeps proving every day, only one of them has a future.
If you're looking for even more hospitality marketing goodness, you might also want to take a moment to review the slides from my recent seminar, "Digital Marketing Directions 2016: The Key Trends Driving Your Hotel Marketing Next Year" here:
Finally, you will definitely want to check out some of our past coverage of the mobile, local, social web and how to make it work for your hotel, including: