How to Improve Your Email Marketing in Just 5 Minutes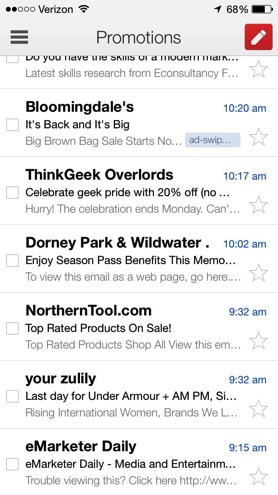 Interesting study out this week from Yesmail (and discussed at length by Marketing Charts) showing how marketers use responsive design in their email marketing — or more accurately, don't:
"A majority 52% of email opens occurred on a mobile device in Q1, according to the latest quarterly report [download page] from Yesmail… [which] found that among emails opened on mobile devices, those using responsive design had a 21% higher click-to-open rate than the rest (11.9% vs. 9.8%)."
Pretty cool. So, you'd expect most marketers use responsive design for their emails, right?
Nope.
"Indeed, only one-quarter of marketers tracked use responsive design in a majority of their emails, and that includes just 1% exclusively sending responsive emails. Some 31% don't use responsive design at all."
Wait, what?
Let's just outline those numbers again:
Responsive design had a 21% higher click-to-open rate than non-responsive design
75% don't use responsive design a majority of the time
Almost a third don't use responsive design at all.
Which, I guess is fine, assuming your customers don't read emails on their phone.
Oh… except they do.
A lot.
Checking email is the #1 activity cited by smartphone users for their device, with 91% checking email at least once per day (also according to Marketing Charts).
I've called "email the forgotten social network" for years now, but it remains a hugely valuable e-commerce and marketing channel. Everyone has an email account. Hell, most customers have more than one. And, as the numbers cited above show, they're checking those accounts at least daily (though, let's be real: usually it's much, much more).
Someone recently called mobile "the mortar in bricks and mortar." And I'd argue that email represents a healthy ingredient for that mortar. But only if your customers can actually see it, read it, and act on it when and where they want if it works on their mobile devices. Ignoring mobile is one of the biggest mistakes you can make in 2014 whether it's your web presence, your search activities and, yes, your email marketing.
The good news here is that odds are your competition isn't doing a good job of email marketing to mobile customers. The bad news is if they get there first. If it were me, I wouldn't wait.
If you're interested in learning even more about the future of e-commerce and marketing via the social, local, mobile web? Register to receive a special report I've produced in conjunction with hotel marketing firm Vizergy, "Digital Hotel Marketing in a Multiscreen World." While it's targeted specifically at hotel and resort marketers, the lessons apply to just about any business. You can get your free copy of the report here.
You might also like these slides that list three key digital marketing trends shaping your customers' behavior right now:
And, finally, you might want to check out some of our past coverage of the social, local, mobile web and what it means for your business, including: