Is Mobile Overtaking Desktop Internet Use?
I don't know if you noticed this in my presentation from HSMAI yesterday, but Google has data showing that mobile internet use has grown among travel shoppers while desktop usage has declined.
Here's what's going on with leisure travelers: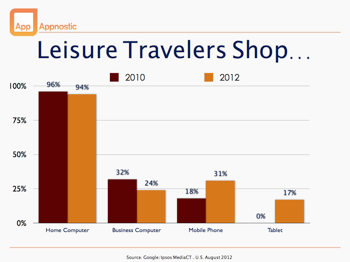 And with business travelers: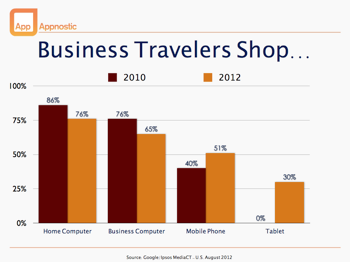 It's not just in travel. While this is a bit old, StatCounter outlined a slight decline between January 2011 and January 2012 in desktop internet use.
As you begin your planning for 2013, don't think 2013 will be the (long-predicted) year of mobile. Instead, assume that last year already was.
---
Are you getting enough value out of your small business website? Want to make sure your business makes the most of the local, mobile, social web? thinks helps you understand how to grow your business via the web, every day. Get more than just news. Get understanding. Add thinks to your feed reader today.
And while you're at it, don't forget to follow Tim on Twitter.
Tim Peter & Associates helps companies from startups to the Fortune 500 use the web to reach more customers, more effectively every day. Take a look and see how we can help you.