Search, Social and Mobile: What You Need to Know This Week (Small Business E-commerce Link Digest – August 17, 2012)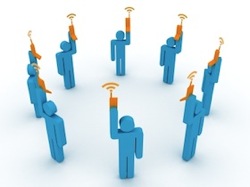 Need still more evidence how linked search, social and mobile are? Wondering why content marketing matters? Check out this week's links:
I explained yesterday why SEO is really dead this time and what you can do about it over on Biznology. Well, it seems that Google head of web spam Matt Cutts said that Google's next Penguin update will be "jarring & jolting.". Even though he's since backed away from that statement a bit, his update still notes,


"…expect that the next few Penguin updates will take longer, incorporate additional signals, and as a result will have more noticeable impact." [Emphasis mine]

So, Google isn't necessarily sticking a knife in most SEO's ribs; but they're not making it any easier, either.

Speaking of SEO, Dan Zarrella offers new data that shows the correlations between social sharing and inbound links, illustrating once again how important content marketing and social media marketing now are to your SEO efforts.
Shifting gears a bit, Search Engine Journal explains how to do it the right way on Google AdWords Display Network.
Mobile Marketer has great research showing media consumption on mobile outpaces TV.
And, on a related note, Mobile Marketer also says that CPGs step up their mobile marketing game.
Finally, wrapping up the data and this post (and the week) in a nice big package, eMarketer explains how back-to-school shoppers rely on smartphones and social networks while making their purchase decision.
Have a great weekend, Big Thinkers. See you next week.
---
Are you getting enough value out of your small business website? Want to make sure your business makes the most of the local, mobile, social web? thinks helps you understand how to grow your business via the web, every day. Get more than just news. Get understanding. Add thinks to your feed reader today.
And while you're at it, don't forget to follow Tim on Twitter.
Tim Peter & Associates helps companies from startups to the Fortune 500 use the web to reach more customers, more effectively every day. Take a look and see how we can help you.
Technorati Tags: content, content marketing, content strategy, m-commerce, marketing, marketing best practices, mobile, search, search engine marketing, search engine optimization, sem, seo, social, social commerce, social marketing, social media, social media predictions, social search, social strategy