Today and Tomorrow: Mobile and The Changing Customer Journey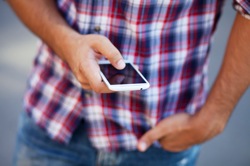 In yesterday's Tuesday Travel post, I mentioned talking to a group of travel executives about the growth of mobile and what it means for the industry. While the talk was centered around the travel industry, the lessons apply equally well across industries. Here are the slides, if you're interested:
Not only did I speak, but I learned a lot, too. The private event featured Ludo Dumas, who's brilliant about the state of the market in China, and PhoCusWright principal analyst Douglas Quinby, who is always enlightening. Oh, and I should mention, I'm available to speak at your event, too. All in all, it was a great day.
Interested in more? Sign up for our free newsletter and get more information on how to build your social, local, mobile marketing strategy. And, if you've got a minute, you might enjoy some past coverage of mobile, including: