Where Are You? Map Searches Increasingly Shifting to Mobile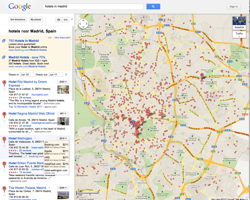 Search Engine Watch has an amazing look at how desktop map searches increasingly shifting to mobile noting:
"Searches with a mapping/navigation intent on the Big 5 Engines (Google/Bing/Yahoo/Ask/AOL) are down 34 percent over the past 15 months, going from 74.8 million to 49.5 million in August. Search clicks to map/navigation sites show an even steeper decline, down 41 percent to just 55.2 million in August."
Does that mean that no one's looking at maps any longer?
Of course not.
Where are those searches happening then? The article continues:
"As desktop-based searches with mapping intent and search clicks to map websites both show declines, it's clear that search as a discovery process for navigation on desktops is eroding. This trend signals a significant shift in intent, as consumers who once relied on being at a computer to search for directions before going somewhere are now happy to rely on those handy little computers in their pockets." [Emphasis mine]
Mapping, and map-based search, may be the killer app for mobile. And mobile is here. Now. Today. if your business relies on a physical location, you must appear in map search results. And that means your marketing must work in a mobile environment. Any questions?
---
Are you getting enough value out of your small business website? Want to make sure your business makes the most of the local, mobile, social web? thinks helps you understand how to grow your business via the web, every day. Get more than just news. Get understanding. Add thinks to your feed reader today.
And while you're at it, don't forget to follow Tim on Twitter.
Tim Peter & Associates helps companies from startups to the Fortune 500 use the web to reach more customers, more effectively every day. Take a look and see how we can help you.
Technorati Tags: mobile, search, search engine marketing, search engine optimization, sem, seo, strategy