Why the mobile web scares Google to death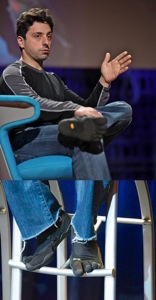 I know Halloween was yesterday, but it isn't goblins, ghouls or ghosts that have Google quaking in their funny toe-sock shoes. Nope. It's the mobile web.
And in case you think I bobbed for apples in a tub of Rumple Minze last night, check this out. ReadWriteWeb reports that Google launched GoMo, a site dedicated to broadening the use of mobile web among businesses. And one with a name that's kind of scary in its own right. Anyway, the site is filled with case studies touting the advantages of the mobile web and with links to developers to build your mobile site for you.
To paraphrase Mark Twain, let's pretend you're the world's most popular search engine. Let's also pretend you make the world's second most popular mobile operating system. But I repeat myself. Now, let's pretend you don't charge consumers for either of those — and that you still managed to make a few billion dollars last quarter.
Sounds like you're sitting pretty, right? Why would you care so much about mobile websites?
Here's why:
Mobile web use grew about 6% over the last 6 months.
Mobile app use grew about 23%.
I'll give you one guess which one of those Google makes money on.
Google thrives on searches, whether conducted via the desktop web or the mobile web. But, per internet analyst Mary Meeker's latest report (as cited on Flurry.com),
"In 2011, for the first time, smartphone and tablet shipments exceed those of desktop and notebook shipments."
In a couple of years, we're not going to be talking about the mobile web. We're going to be talking about the web. Period.
And, unless Google can get developers to build mobile sites with the immersive qualities apps bring to the table, we may also be talking about the good ol' days before Google was just a ghost of itself. Scary stuff, indeed.
---
Are you getting enough value out of your small business website? Want to make sure your business makes the most of the local, mobile, social web? thinks helps you understand how to grow your business via the web, every day. Get more than just news. Get understanding. Add thinks to your feed reader today.
And while you're at it, don't forget to follow Tim on Twitter.
Tim Peter & Associates helps companies from startups to the Fortune 500 use the web to reach more customers, more effectively every day. Take a look and see how we can help you.
Technorati Tags: 2011 predictions, Google, google, google adwords, mobile, search, search engine marketing, sem