How Mobile Shapes Customer Behavior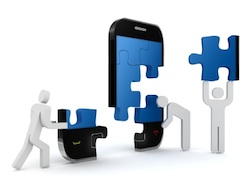 New research from eMarketer today highlights how consumers' changing relationship with technology, especially mobile, shapes customer behavior, noting:
"…60% of US internet users were almost always connected. Fully 43% never unplugged from all personal technology, such as audio players, ereaders, laptops and computers, mobile phones, tablets, and TV, and 17% only took a break a few times a year."
One of the biggest drivers, by far, is the growth of smartphone usage. Which isn't surprising when you consider that smartphone penetration in the US has now topped 70%.
This trend towards the Internet, everywhere, creates both opportunity and challenges for many businesses. First, it highlights your need to support your customers when they choose mobile. Mobile serves as the glue connecting your various channels — e-commerce, in-store, call center, catalog — because it's always at hand. And your customers increasingly expect that they can use their phone to accomplish whatever task they're faced with, when and where they want.
One huge area of improvement for many marketers and merchandisers is email. Almost three-fourths of all customers check email on their phone regularly and, again, have it close at hand day and night.
Last week I took a look at growing your email list and its importance as an e-commerce best practice. I also gave a talk last week on the same topic. You can view the slides right here:
If you're interested in learning even more about how customers changing behavior shapes e-commerce and marketing, register to receive a special report I've produced in conjunction with hotel marketing firm Vizergy, "Digital Hotel Marketing in a Multiscreen World." While it's targeted specifically at hotel and resort marketers, the lessons apply to just about any business. You can get your free copy of the report here.
The reality is the growth of mobile continues to shape your customers' activity. The question remains is whether it's shaping yours to meet customer needs.
Just an FYI, I'm presenting a webinar called Digital Marketing Directions: Key Trends Driving Your Marketing Next Year on Tuesday, September 16. You can read all the details here.
Finally, you might also enjoy some of our past coverage of the e-commerce and how to make it work for your business, including: