Is "Mobile-First" the Right Path in 2013?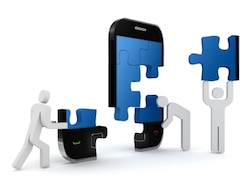 Consider this a quick follow-up on Friday's post looking at SoLoMo in practice: Horace Dediu at Asymco looks at Samsung's revenue growth and market share over the last handful of quarters, particularly now that it's more profitable than Google.
Why should you care?
Simple.
Desktop search activity gained a few points of share last month relative to mobile, but is still down when compared with its peak earlier this year. According to Search Engine Land, mobile search comprises between 12% and 30% of all search query volume (ignoring app use and the like which aren't reflected in these numbers).
So let's review the facts:
Desktop search activity comprises a smaller share of overall search activity due to the growth of mobile search (and search alternatives such as apps).
Samsung has rocketed to the premier market leader spot by offering a variety of smartphones and other mobile devices.
Google's overall profitability has declined — largely due to increased mobile activity.
The takeaway? We're living in an always-on, always-connected, mobile-first world.
So, what are your mobile plans for 2013?
---
If you can help those dealing with the after-effects of Hurricane Sandy, please visit the American Red Cross.
Want to make sure your business makes the most of the local, mobile, social web? thinks helps you understand how to grow your business via the web, every day. Get more than just news. Get understanding. Add thinks to your feed reader today.
And while you're at it, don't forget to follow Tim on Twitter.
Tim Peter & Associates helps companies from startups to the Fortune 500 use the web to reach more customers, more effectively every day. Take a look and see how we can help you.
Technorati Tags: E-commerce, e-commerce, E-commerce strategy, ecommerce, m-commerce, marketing, marketing best practices, mobile