Myriad mobile SEO tips and tricks (Small Business E-commerce Link Digest – March 30, 2012)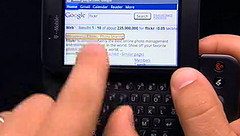 I'd mentioned the other day that mobile will account for 25% of paid search traffic this year. But how do you get your mobile site to work well from an SEO persepctive? And what if you don't have a mobile site at all?
Never fear, Big Thinkers. This week's link roundup has you covered:
Starting off, Robert Bruce at CopyBlogger has a great look at the right way to have a mobile site. While part of the post reads like a (very, very well written) ad for StudioPress, CopyBlogger's theme platform, Bruce's look at the myth of mobile content marketing is a must read. As he notes,


"The dirty little secret of mobile content distribution is that you only need one website to serve every device."

Very true. And very useful. We've looked at whether you should have an app or mobile site in the past and I think Robert hits this on the head. Even more important, there are multiple ways to accomplish this goal, whether you use StudioPress or any of the existing alternatives (Full disclosure: I'm an affiliate for Thesis, which is a StudioPress competitor. But I would note that both are very fine theme engines and you can—and should—accomplish what Bruce highlights in a number of other ways, too).

Speaking of mobile sites, QuickSprout suggests how to optimize your mobile site for search engines.
And, while we're on the topic of SEO, MarketingProfs examines the top 4 reasons your business website isn't getting backlinks.
Finally, let's wrap up with Search Engine Watch's great look at how to build a keyword discovery machine using AdWords.
Have a great weekend, Big Thinkers. Enjoy the warm weather and we'll see you back here next week.
---
Are you getting enough value out of your small business website? Want to make sure your business makes the most of the local, mobile, social web? thinks helps you understand how to grow your business via the web, every day. Get more than just news. Get understanding. Add thinks to your feed reader today.
And while you're at it, don't forget to follow Tim on Twitter.
Tim Peter & Associates helps companies from startups to the Fortune 500 use the web to reach more customers, more effectively every day. Take a look and see how we can help you.
Technorati Tags: analytics, Bing, content, content marketing, content strategy, E-commerce, e-commerce, e-marketing, ecommerce, Google, google, integrated marketing, internet marketing, ipad, iphone, m-commerce, marketing best practices, Microsoft Bing, mobile, online marketing, ppc marketing, search engine marketing, search engine optimization, sem, seo