The argument against "mobile first." And why it's wrong.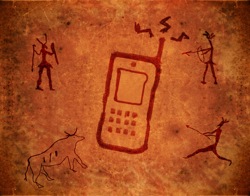 Business Insider noted in a research deck that global PC shipments have slowed dramatically, effectively flat compared to the same quarter last year and that smartphones are now outselling PC's. But, the deck makes a compelling argument against mobile first (it helps if you read the whole thing).
Now given that I argue in favor of mobile first (also here. And here), you'd think I'd say these guys are nuts.
And I do.
Kind of.
Now, don't get me wrong. I'm not backpedaling on this. Not even a little. Consumers spend lots of time with their mobile devices, even when they're in stores. They're comparison shopping, reading product reviews, looking at product information and a host of other tasks that help them make a purchase decision (or guide them away from a purchase). Their use of mobile devices is eating into their "traditional" online shopping and shifting overall media consumption. Facebook, for all its struggles monetizing mobile traffic sees consumers spending more time with the mobile app and mobile website than its non-mobile website.
Where Business Insider goes wrong is confusing "mobile first" for "mobile only."
Typically, somewhere between 25% and 33% of businesses are either in the process of redesigning, re-skinning, re-architecting or re-platforming their websites each year with another chunk starting the planning process for the following year. So that means there's some 50-plus percent of you out there working on this stuff. There's another huge chunk of small businesses (something like 50%-60%, by most estimates) who don't have a website at all. And almost everybody else is testing new landing pages, launching new campaigns or creating new content.
Building a website that works on a mobile device in addition to a desktop is only marginally more difficult than building a website at all (and a whole lot easier than trying to maintain separate regular and mobile sites). Any new web activity you're starting in 2013 (or even here in the last months of 2012) ought to include mobile from the ground up. There's few good reasons not to include mobile into your online marketing and e-commerce activities today and lots of reasons why you should.
So, really, "mobile first" is about acknowledging that customers are changing quickly and doing something about it, while at the same time not abandoning your customers using "traditional" online channels.
If you want to call that something other than "mobile first," I suppose I could live with that. But no matter what you call it, ignoring mobile is the biggest mistake you'll make next year.
---
If you can help those dealing with the after-effects of Hurricane Sandy, please visit the American Red Cross.
Want to make sure your business makes the most of the local, mobile, social web? thinks helps you understand how to grow your business via the web, every day. Get more than just news. Get understanding. Add thinks to your feed reader today.
And while you're at it, don't forget to follow Tim on Twitter.
Tim Peter & Associates helps companies from startups to the Fortune 500 use the web to reach more customers, more effectively every day. Take a look and see how we can help you.
Technorati Tags: E-commerce, e-commerce, E-commerce strategy, ecommerce, m-commerce, marketing, marketing best practices, mobile