What Mobile Will Do to Your Sales in 2013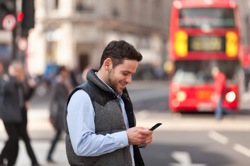 Here's a quick thought for you about the importance of mobile going forward. Retail sales (seasonally adjusted) currently run around $1 trillion in the United States each quarter. E-commerce accounts for roughly 5%-6% of that total—with some strong variation by category—and grows about 12%-15% each year (again, with some significant variation by category).
Of that total, maybe 40% of all retail purchases were researched and influenced online prior to the purchase.
Except, now, every one of your customers carries the internet in her pocket everywhere she goes, every day. And mobile use continues to grow.
What do your customers do with mobile? Well, engage with their friends (social), find out what's nearby (local) and, yes, shop.
Do you think customers carrying smartphones are going to reference it more than 40% of the time when considering a purchase?
The social, local, mobile web creates transparency. It reveals information you've long concealed—whether intentionally or not. It allows your customers to know as much about your products and services as your employees do. Maybe more.
Even more importantly, it lets them know exactly at the moment when they're ready to buy.
Do a good job of exposing your value through a compelling brand story and watch your sales skyrocket. Or you could try the other approach… I just don't recommend it.
I'm giving a Biznology webinar next week called "It's All E-commerce" which looks at what the social, local, mobile web does to your business in more detail. Good seats are still available. Why not register today and find out more about the future of commerce, online and offline (as if there's any such thing anymore).
---
If you can help those dealing with the after-effects of Hurricane Sandy, please visit the American Red Cross.
Want to make sure your business makes the most of the local, mobile, social web? thinks helps you understand how to grow your business via the web, every day. Get more than just news. Get understanding. Add thinks to your feed reader today.
And while you're at it, don't forget to follow Tim on Twitter.
Tim Peter & Associates helps companies from startups to the Fortune 500 use the web to reach more customers, more effectively every day. Take a look and see how we can help you.
Technorati Tags: 2013 trends, e-marketing, ecommerce, email marketing, strategy, success, E-commerce, e-commerce, E-commerce strategy, ecommerce, m-commerce, marketing, marketing best practices, mobile