Are Mary Meeker's Projections for Mobile Growth Dead Wrong?
I've spent a lot of time this week talking about the latest "state of the Internet" report from Mary Meeker with its mind-blowing statistics about the growth of the Internet generally, and mobile specifically.
But, as often happens, some are suggesting that Meeker is wrong. Very wrong. The surprising bit is these critics think Meeker's projections are too conservative. As E-commerce Times notes:
"Meeker's projected numbers for the increase in mobile traffic are too conservative, said James Lamberti, general manager and vice president of AdTruth.

'Not only are we seeing a tremendous growth in mobile phones, but as she noted, tablets are also growing like wildfire, roughly three times faster than the iPhone…'"
OK, I don't want to bash Mr. Lamberti, but he's making a (potentially) huge mistake here: Assuming tablets are mobile.
Typically tablets are replacing desktops and laptops — outselling both in Q4 of last year (see the chart below).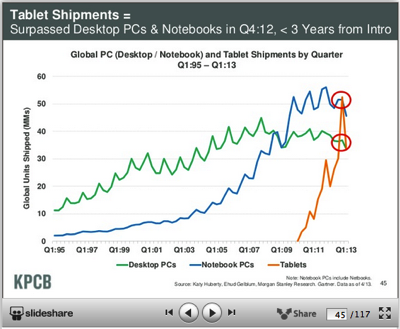 But as I mentioned the other day, in practice, most customers don't use their tablets outside the home.
Tablets aren't desktops or laptops; they're "couch computers," a second screen your customers use while consuming other media. That's not to say tablets aren't a huge change in customer behavior (constant connection, mullti-device consumption, etc.) But they're not mobile in the most meaningful sense of the word.
Of course, that still doesn't answer the question as to whether Meeker is wrong. The answer to that reminds me of an old Bill Gates quote I mentioned on yesterday's podcast:
"We always overestimate the change that will occur in the next two years and underestimate the change that will occur in the next ten."
Gates couldn't be more right. And there's a good reason for this. The changes we're seeing in the marketplace are driven by Moore's Law, an understanding that computing power roughly doubles every 18 months. So the computing devices we'll see in the next 18 months — mobile phones, tablets, wearables like Google Glass, etc. — will be twice as powerful at the end of 2014 as the devices we're dealing with today. That's not that hard to get your head around. (An alternative approach is to think that the tech you're buying today will cost half as much in that same period).
So the problem isn't the near-term. Many people look at how far we've come over the last 5-10 years and say, "OMG! You won't believe where we'll be in just the next year or two!" (To be fair, I may have done that myself once or twice).
But, that exponential growth really kicks into high gear when you look out 5-10 years. The doubling effect of Moore's Law means that the devices 5 years from now will be 10 times as powerful as today (or 1/10th the price), while those 10 years from now will be 100 times powerful.
And that's a hard reality to wrap your head around. Picture a Galaxy S4 or iPhone 5 selling for $5-$10. Picture one of the current iPads selling for eight or nine bucks. If you think I'm crazy, just remember that the best-selling "smartphone" in 2003 was the $600 Nokia 6600, a powerful device with Bluetooth, streaming video and audio, and the first camera phone to sell over 1 million units (cheaper phones existed, but they couldn't do much).
If you're curious, this technological marvel looked like this:
OK. Now imagine what you you'll be able to buy a decade from now for $250, $500, $1000.
Tough to do, isn't it?
So Meeker's short-term projections may be off a bit. They may be a little bit optimistic or they may be conservative.
But the long-term picture blows my mind. Continually. We're only now beginning to see how constant connectivity and instant access to information changes customer behavior. One thing that doesn't seem to be happening is for that shift to slow down. Quite the contrary, in fact.
So I'm going to give Ms. Meeker the benefit of the doubt on this one. Your customers are snapping up mobile devices like they're free candy. They're expecting your site, your marketing, and your message to work from them across screens and across devices. And they're only getting more accustomed to that reality. If Meeker's numbers turn out to be a shade aggressive time-wise, you're likely not too far ahead of the game given how many people already rely on mobile and tablets.
And if Meeker is too conservative? Well, brace yourself as the world turns upside down again.
Interested in learning more? Register to receive a free copy of my new special report, "Digital Hotel Marketing in a Multiscreen World," produced in conjunction with Vizergy, here. While it's targeted to the hospitality industry specifically, most of the lessons apply across verticals. And, if that's not enough, you might also enjoy some of our past coverage of the social, local, mobile web, including: