Should Facebook Take the Place of Your Brand's Website?
Should Facebook take the place of your brand's website? Will it replace your mobile app? Maybe. The social giant would sure love to see that happen. It's recently launched its "Instant Articles" platform for publishers and appears to be actively wooing adoption among SMB's as a primary platform too with Facebook COO Sheryl Sandberg stating in a recent Wall Street Journal profile:
"Thirty-five percent of U.S. small businesses don't have an online presence. It's even harder to build a mobile presence. Mobile apps are hard to develop and it's very hard to get your app downloaded… So as users' time and attention is shifting to the mobile screen, (Facebook) pages are the mobile presence for most of these small businesses. And there's nothing else out there that's this easy and this simple to use."
Facebook also continues to invest in "immersive" technologies to attract and retain users. As Facebook CEO Mark Zuckerberg said recently:
"Facebook is meant to give people a way to share anything they want with any audience they want, and so more immersive content like that will be more a part of people want to share."
This may be a good thing for some businesses (I mean, apart from Facebook itself) because of Facebook's enormous reach. Ben Thompson of Stratechery notes:
"…you increasingly have brand advertising dollars — also an order of magnitude more than direct response dollars — looking for somewhere to go other than TV, and it just so happens that Facebook is the perfect brand advertising platform."
I'll tell you, they've impressed me lately. For instance, check out the way the company seamlessly incorporated the score from last night's playoff game into my personal update (providing me the news prior):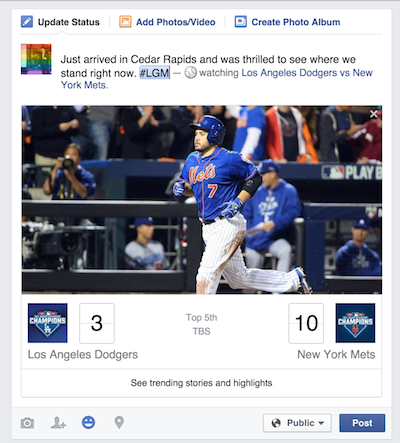 So this is great news, right? After all, you might find that Facebook finds all the right customers for you and at a relatively low cost.
Well, maybe. But maybe not. Essentially, I'm not a fan of ceding control to a single entity. As I've mentioned in the past, "When someone else completely controls the road to your customers, it shouldn't surprise you when they decide to install tollbooths." At present, Facebook's not installing toll booths, not really anyway. But as they capture more of your customers' time, the risk remains.
Does that mean you shouldn't use Facebook? Not at all. But you should ensure that Facebook serves as a complement to your other mobile and web efforts, not as the whole enchilada. While Facebook may be "easy" and "simple" for businesses and "perfect" for brand advertising, transitioning your customers away from it if it's the only place you exist online in the future will be anything but easy, simple or perfect for you.
If you want learn even more about how your customers' changing behavior shapes e-commerce and marketing, be sure and register to receive a special report I've produced in conjunction with hotel marketing firm Vizergy, "Digital Hotel Marketing in a Multiscreen World." While it's targeted specifically at hotel and resort marketers, the lessons apply to just about any business. You can get your free copy of the report here.
You can also check out these slides and video from my recent webinar, "Digital Marketing Directions: Three Key Trends Driving Your Marketing Next Year":
And, finally, you might want to take a look at some of our past coverage of the e-commerce, mobile commerce, and digital marketing overall, including: