Shouldn't Mobile be More than Last-Minute? (Travel Tuesday)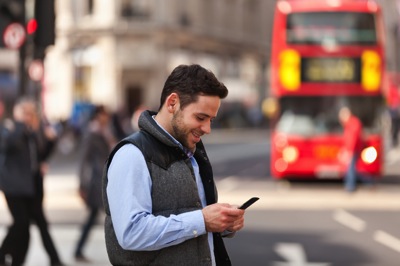 There's been a fair bit of hubbub lately about last-minute booking on mobile and whether the model has any legs. Much of this started when HRS' Tobias Ragge said most same-day/last-minute booking apps will disappear within the next 3 years (Tnooz has a great write-up on the kerfuffle, including responses from HotelTonight and others).
The data seems to suggest that there's a lot of last-minute activity out there. For instance, a recent Expedia survey found that half of reservations made on mobile were for arrival within next 24 hours and 78% arrived within one month.
However, let's be clear about this. There's a ginormous difference between "next 24 hours" and "within one month." Sure, booking windows have been shrinking for years and it seems unlikely they're going to grow significantly anytime soon.
But "within one month" is miles from "last minute."
Or ought to be.
Which begs the question: Shouldn't mobile be about more than just last-minute?
Mobile: A Deeply Personal Device
At its core, mobile fulfills many functions. And, yes, one of those is "immediate gratification," whether it's looking up information, taking pictures, or flinging perturbed avian avatars at a bunch of pigs.
But many consumers see their mobile phone as a deeply personal device. At last count, some half of all smartphone users slept with their phones (see slide 74 of the presentation here—oh, and be aware the number climbs among millennials).
Part of the reason for this is how effective mobile is for keeping in touch. Obviously, mobile is key to Twitter, Facebook and texting. And, additionally, Marketing Land highlights the following data from a recent Constant Contact study:
"…among participants age 18 to 30 years, 88 percent open email on a mobile device, with more than half – 52 percent – confirming their smartphone is their primary device for opening emails.

For survey respondents age 30 to 39, 85 percent open emails on their mobile device with nearly half – 48 percent – claiming their smartphone is their primary device for email.

Of the respondents age 40 to 49, 74 percent confirmed they read emails on their devices, but only 35 percent of this age demographic said that their smartphone was their primary device for reading emails."
So, if mobile's at least in part a deeply personal device, why not use it to offer a deeply personal experience?
Happily, some great examples exist for how to do this.
Mobile as an Engagement Environment
While I've talked about this before, take a look W Hotel's curated playlists. The hotel chain offers guests engaging content that also keeps the brand front-and-center in consumers' ears, hands, and minds.
Similarly, check out Starbucks' mobile app. Among its features is a very cool payment function. Cool, because it allows users to pay for their purchases or gift money to others. And made even cooler from Starbucks' point of view as the company sees more revenue from users of its payment app than it does from comparable customers who don't use the app. Seriously cool, when you think about it.
Another great example comes from TripIt, which helps its users keep track of all elements of their travel experience. Or Google Maps—and its recent acquisition, Waze. Or Hipmunk. Or any number of games and utilities that enhance their users' day-to-day lives.
These folks aren't simply addressing instant gratification.
They're building a relationship with customers. Which is really the whole point, isn't it?
Mobile: Both a Booking Channel and an Engagement Environment
Now none of this is to say booking doesn't matter. That would be silly. The W Hotels music player app I mentioned earlier also lets guests find and reserve rooms—as well it should. It's just that there's more to engaging your guests than solely providing booking capabilities.
Even "quick booking" apps like Choice Hotels' recent RapidBook service and Wyndham Worldwide's app also put customer engagement first. While I suspect both companies get a fair number of last-minute bookings through their apps, it's also important to remember who their customers are. Many roadside properties likely receive a fair amount of walk-in business (an economy brand I once worked with received roughly 60% of its bookings each day as walk-ins). In this case, mobile isn't driving a behavior; it's helping guests already exhibiting that behavior do what they want to do.
And, successful last-minute apps provide, at least in theory, a useful audience for truly distressed inventory. The real key for hotels is ensuring they're using these for that segment and not giving away the farm.
TL; DR: Mobile offers a variety of options to engage customers and drive business. The key is in thinking about how your customers benefit from mobile and how you can help them accomplish their goals. Do that and bookings will follow. And not all of them last-minute.
If you're interested in learning more about the future of marketing on the social, local, mobile web, register to receive a special report I've produced in conjunction with hotel marketing firm Vizergy, "Digital Hotel Marketing in a Multiscreen World." While it's targeted specifically at hotel and resort marketers, the lessons apply to just about any business. You can get your free copy of the report here.
You might also enjoy some of our past coverage of the social, local, mobile web and what it means for your business, including: