Amazon Go, Instant Gratification, and the Boring Future of Business (Thinks Out Loud Episode 265)
Podcast: Play in new window | Download
Subscribe: RSS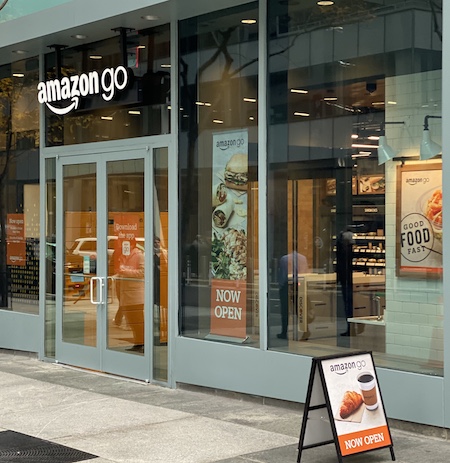 Looking to drive results for your business? Click here to learn more.
---
Amazon Go, Instant Gratification, and the Boring Future of Business (Thinks Out Loud Episode 265) — Headlines and Show Notes
Amazon uses its Amazon Go stores to provide the shopping experience of the future. Swipe your phone when you enter, pick up your things, and simply walk out. No lines. No scanning products. Nothing. It's cool. It's also surprisingly… boring. Yes, it provides instant gratification. But it's an experience that's so invisible as to be, ultimately, uninteresting.
What is interesting though is how Amazon Go — and competing options as they come down the pike — will shape expectations for customer experience for every business. Your customers will expect instant gratification. They'll expect seamless experiences. They'll demand that their interactions with you become invisible. Or, the reverse:, much more interesting.
How can your company cope? How do you create these kinds of experiences? The latest episode of Thinks Out Loud takes a look at Amazon Go, instant gratification, and the boring future of business for you. And even better, offers answers for these questions for you.
Want to learn more? Here are the show notes for you:
Amazon Go, Instant Gratification, and the Boring Future of Business (Thinks Out Loud Episode 265) — Relevant Links:
Subscribe to Thinks Out Loud
Contact information for the podcast: podcast@timpeter.com
Past Insights from Tim Peter Thinks
You might also want to check out these slides I had the pleasure of presenting recently about the key trends shaping marketing in the next year. Here are the slides for your reference:
Technical Details for Thinks Out Loud
Recorded using a Heil PR-40 Dynamic Studio Recording Mic
and a Focusrite Scarlett 4i4 (3rd Gen) USB Audio Interface
into Logic Pro X
for the Mac.
Running time: 16m 11s
You can subscribe to Thinks Out Loud in iTunes, the Google Play Store, via our dedicated podcast RSS feed (or sign up for our free newsletter). You can also download/listen to the podcast here on Thinks using the player at the top of this page.
Amazon Go, Instant Gratification, and the Boring Future of Business (Thinks Out Loud Episode 265) — Transcript
Well, hello again, everyone and welcome back to Thinks Out Loud, your source for all the digital marketing expertise your business needs. My name is Tim Peter. And this is episode 265 of the big show. Thank you so much for tuning in. I know I say this every time but I really appreciate it. I wouldn't do the show if you didn't listen, so thanks so much for doing so.
I have a really cool, I think we've got a really cool show today. I think it's a neat topic. I finally got an opportunity to visit an Amazon Go store. They're popping up in a couple of places around the country and around the world. There's a few on the west coast, there are now a couple in New York City. And what's interesting, I talked about this a long time ago, and how this is the future of commerce and the future of e-commerce. And I have to say that I was right, and also, I was wrong.
Now, I want to start with, as you might imagine, I want to start with the fact where I was right. :)
What I'd said in a podcast episode, gosh, almost three years ago now, I said this shows how e-commerce will work in the future. And I think that's right. Now that I finally got the opportunity to actually visit one of these stores, it absolutely shows how things will work in the future. The thing about it, though, is what it shows is that it's going to be incredibly boring. And hear me out, hear me out on this because this is really important. There's a really critical point here that I want to make but hang with me for a minute till I get there.
Let's start with all the things that Amazon Go does wrong. So first, you have to download the app, which isn't a big deal, but you can't actually get in the store unless you have the app. Then I ran into a very particular problem that is probably distinct to me, in that they couldn't tie my Amazon account to the correct credit card. And that meant I couldn't get into the store. So the first time I went to the store, I was not able to get in. Nothing that I did, or the very courteous clerk who worked there tried, convinced Amazon that I was able to pay. And that meant that I couldn't come into the shop. The net result was that it was not in Amazon Go, it was Amazon Go away. I wouldn't call it a poor experience. There was no experience at all. But it certainly had a negative brand experience for me. It didn't make me real happy with Amazon. And their website did a terrible job of helping me understand the problem.
So, once I got to my hotel and I was able to pull out my laptop and figure out what was going on on the website, I was able to fix the issue. But it absolutely contributes to criticisms that people have had about how Amazon Go might limit access to low-income consumers or those without credit cards or those without smartphones.
So as bullish as I may be on mobile payments, which anybody who's listened to the show for a long time knows, and a more cashless society generally, certainly, some sort of recourse has to exist for people without those options. At which point, you're shutting out an entire segment of the population. That's bad for business, obviously. And also, it's just plain wrong. People should be able to transact with you if they have the ability to, regardless of whether or not they have a smartphone or a credit card. There should be some recourse. I don't know what the right answer is there, but there should be some solution.
Anyway, I want to get to the broader point at the same time. And for those of you who are listening who are like, "Well, I'm in B2B and none of this is going to apply," hang with me because this is really going to apply to you too. So, once I figured out the problem with my card and I configured the app to use it, I went back to the store. I pulled up the 3D barcode on the app, scanned the check-in and walked in. And as advertised, it's a really simple process. It's so simple, in fact, that it's scarcely registered for me what I had just done because it was kind of invisible. The store, meh, it was fine. It contains the same mix of shelf-stable and short-term refrigerated goods, like pre-wrapped sandwiches or microwave meals or sushi that you'd find in any small-footprint city center bodega. It's got razor blades, it's got deodorant, it's got pantyhose. If I didn't know I was in an Amazon Go, I could easily have mistaken it for a particularly classy gas station convenience store.
And let's be fair, that's probably more a compliment to gas station convenience stores than a criticism of Amazon. At the same time, it's not an unfair criticism. The store was just like any other store you ever used. So anyway, I grabbed a sandwich, I grabbed a diet Coke, I grabbed a Snickers bar, we all have our vices, and then I simply walked out of the store. It worked exactly as advertised. There was no muss, there was no fuss.
But this is the point. The point is, we live in a society where people expect instant gratification, and I got it. And what happens when you get instant gratification is, it becomes invisible.
This wasn't so much a great experience as it didn't even register what I'd just done. It was like getting out of an Uber. When you get out of an Uber, you don't notice anything because nothing happens. The receipt shows up in your app right after you leave and is accurate, right? Which is what happens with Uber, what happens with Amazon Go. It was completely fine, completely invisible, and completely boring. It worked but in the least visible way possible. And this is what I want to make as the broader point. Instant gratification is what your customers are going to expect, they're starting to expect. They see it today with Uber. Now we're starting to see it with Amazon Go. We will see it with other services, other products.
Think about what it used to be like to check out of a hotel versus what it's like today. It just ceases to exist. And that's actually cool on one level, but it means that you're going to have to work harder to differentiate yourself on customer experience. Because the experience of payment, the experience of shopping, the experience of interacting with you, customers will expect to be invisible. I kind of equated this to automatic sliding doors, right? If you remember the original Star Trek or The Jetsons, right? Sliding doors were this big deal, oh my gosh, you just walk and the doors open. When's the last time you thought about a sliding door anywhere? They just exist everywhere, they're invisible. And that's a thing that technology does generally, is it becomes invisible over time, and that's what we're going to see here.
Now, let's talk about the broader implications of this. It means that you have to provide those invisible experiences because visible gets in the way of instant gratification. Visible gets in the way of customer expectation. So it's not that you have to be invisible to give people a good experience. It's not that you have to do these things to give people a good experience. It's that if you are visible, by definition, it's going to be a bad experience unless you specifically do something to make it a good experience. And that's going to be true regardless of whether people are doing B2C or B2B or anything along the way. Because that's the world in which your customers live in. Jean-Yves Gonin on Twitter was talking about how B2B buyers are B2C consumers. And as e-commerce experiences explode… Due to e-commerce experiences' explosive growth, their expectations change, right? This was something that PwC and Salesforce and Mike Quindazzi said at Dreamforce, and it's exactly right.
We know that 65% of B2B buyers prefer to conduct their research online. We know that 37% of small businesses B2B respondents and 31% of enterprise businesses say that they conduct their business online completely. Lori Wizdo at Forrester has been saying something similar for years, noting that on average, 74% of business buyers told Forrester they conduct more than half of their research online before making an offline purchase. Clearly, in B2C, the numbers are equally large, if not much, much larger. And so, you have to create great experiences. When I say "customer experience is queen, what does that mean?" this is what I'm talking about.
And if I can bring in one last point about this, this is where artificial intelligence is going to play a big role because it's going to help you understand, how do we make our experiences invisible? You have to be creative to say, "And if it is visible, how do we make it not painful?" But the AI should be able to help you understand, here's our pain points. Here are places where we can streamline the experience more effectively, and do so in a cost-effective manner, do so in a way that we can scale easily.
There's a really great article on QSR magazine, quick-service restaurants, where Starbucks talks about why AI is a differentiator for the future. And it has to do with predictive analytics, and it has to do with better understanding the customer, and it has to do with making those experiences invisible, improving instant gratification for their customers.
So the big idea behind all of this is that Amazon Go is the future of e-commerce, the future of commerce generally. And the future is boring because it's not going to be visible. It's going to be the things that are visible create problems unless you explicitly take action to make them not problems for your customers. So you need to think about, how do we take the visible and either make it better or make it invisible for our customers at every step along their journey? Do we have the right data and do we have the right analytics that help us understand where those pain points exist? And do we have a creative team who can help us figure out what to do when we encounter those places where we are more visible than we should be and not in a good way?
Because this is the world your customers live in. This is the reality that they're going to expect. Instant gratification builds on itself, that your customers are going to expect to get things easily, painlessly, seamlessly. And if they don't, they're going to go find somebody else who does help them. Because you can't have instant gratification if it isn't instant and if you're not gratified. You can help your customers solve for that or they'll find somebody who will.
Now, looking at the clock on the wall, we are out of time for this week. But I want to remind you that you can find the show notes for today's episode, as well as an archive of all our past episodes, by going to TimPeter.com/podcast. Again, that's TimPeter.com/podcast. Just look for episode 265. While you're there, you can click on the subscribe link in any of the episodes you find to have Thinks Out Loud delivered to your favorite podcatcher every single week. You can subscribe on Apple Podcasts or Google Podcast or Stitcher Radio or whatever your favorite podcatcher happens to be. You can find us on all the finest podcast services anywhere in the world. Just do a search for Tim Peter Thinks, Tim Peter Thinks Out Loud, or Thinks Out Loud. We should show up for any of those. While you're there, I'd also very much appreciate it if you could provide us a positive rating and review. That gives other listeners a window into the show and helps them understand that's something they'd like to listen to too. It makes it easier for people to find us and it would mean a ton to me.
You can also find Thinks Out Loud on Facebook by going to facebook.com/TimPeterAssociates. You can find me on Twitter using the Twitter handle @tcpeter. And of course, you can email me by sending an email to podcast@timpeter.com. Again, that's podcast@timpeter.com.
I'd like to thank our sponsor. Thinks Out Loud is brought to you by SoloSegment. SoloSegment focuses on AI-driven content discovery and site search analytics to unlock revenue for your business. You can learn more about how to improve your content, increase your customer satisfaction, and make your search smarter, by going to solosegment.com.
With that, I want to say thanks so much for tuning in. I very much appreciate it. I hope you have a great rest of the week, a wonderful weekend, and I'll look forward to speaking with you here on Thinks Out Loud next time. Until then, please be well, be safe and as ever, take care, everybody.